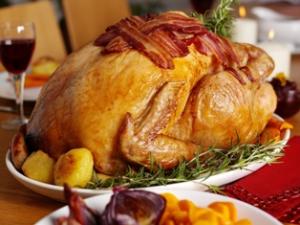 Who do you turn to when it's Christmas Eve and the turkey you've just lugged home from the shops won't fit in the oven? Or the recipe says 'stuff the neck end" – and you just can't tell which end is which? You call the turkey hotline of course!
You won't be alone. Hundreds of people ring this freephone SOS number in the run-up to the Big Day. They are reassured by the fact it is manned by real live people, not machines, right up until 5pm on Christmas Eve but as you might imagine as Christmas gets closer, callers can get more desperate with questions like: How can I make the turkey cook quicker this year to stop everyone getting drunk before dinner? Can I cook it from frozen? Can I part-cook it then finish it off when I get to my mother-in-laws? Will my 25lb turkey thaw before tomorrow morning? (The answer to that one is no – engineer an invitation to a friend's for lunch because a bird that size will take a couple of days to defrost). One thing callers don't have to worry about is embarrassment – the turkey hotline has heard it all before!
So, if you are unsure about anything to do with cooking your Christmas Turkey, call 0800 783 9994 and try it out – it's good to talk!
Also, if you want to find out how to cook great roast potatoes click here.