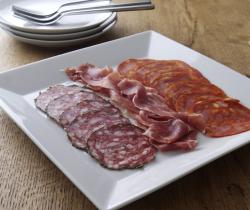 If you like the idea of having friends and family over for a meal in the summertime but you'd also like the chance to enjoy the party at the same time, a charcuterie party is the way forward and Unearthed have all the perfect products to do it with.
Unearthed have brought together a collection of the best Mediterranean charcuterie which you can buy in the supermarket and take home to create a gorgeous dinner spread inside or out.
Charcuterie is all about good quality, tasty meat so take your pick from any of these Unearthed products or for the full on effect get a pack of each: Spanish Chorizo, Italian Prosciutto Crudo, Saucisson Sec and Serrano Ham.
Add some heat with Spicy Hungarian Salami and a good handful of fiery Hot Chilli Olives. For a splash of colour bring out the Sweet Cherry Peppers with Ricotta and place them alongside your meats.
Every experienced host knows that a dinner party can be wonderfully enhanced with just a few touches of thoughtful presentation and for a charcuterie party, there's very little to do. All you need is a nice wooden board or two to arrange your meats and accompaniments on. Suggestions include gherkins, baby cornichons and Dijon mustard but add whatever you feel will go down well with your guests. Serve all your little delicacies with crusty bread, a colourful green salad, dressed potatoes and any regional cheeses you like the look of.
The Unearthed charcuterie range is available from Waitrose, Ocado and Able & Cole.