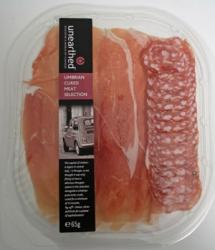 At this time of year as we watch the TV experts cooking their wonderful, effortless meals in their wonderful, seemingly massive, homes we sigh a little with envy. Why can't we have such perfect lives?
The sad truth is that for most people Mum has indeed gone to Iceland and not created her own mince pies, sausage rolls or other festive treats. Only cookery writers have enough time on their hands to do that.
However if you feel a little guilty loading up your larder with products of somewhat dubious provenance, and with a few days left before the big day, you can still get in some quality snacks and nibbles to delight Aunty Win and get caught in Gran's upper plate.
Unearthed® keep sending us samples of their new ranges and we are happy to have them. If they were no good we'd say so but the fact is they do a rather nice range of nibbles and one that's getting larger all the time.
We all like to dip whether armed with some pitta or a naughty salty Pringle. Unearthed® 's Pomegranate Houmous with Green Harissa Dip has some fire from the harissa but the molasses and coriander tame it well. Particularly good with some crunchy veg such as carrots or celery and you can claim you're getting your five a day too.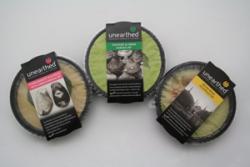 Their Yoghurt & Green Harissa Dip – coriander, parsley and chilli – is definitely one for the pitta bread option; split the pitta in half and pile the dip into it. We found some falafels added on top made a pretty substantial Middle Eastern 'sandwich'.
Broad beans are not high on most people's 'must eat' list, mostly because the broad beans we get in our supermarkets are leathery monsters. Dig down through the pods and shell the beans however and an emerald green treat emerges that is sweet and lovely and normally best eaten in a risotto.
Unearthed® have created Broad Bean Houmous Dip using smashed broad beans instead of the usual chick peas and added some spicy paprika. It works rather well on crostini and makes a pleasant change from the earthy standard houmous with its inevitably over-processed texture.
And meat platters are made for sharing, even if someone always eats all the salami. Unearthed® 's Umbrian Cured Meat Platter includes Italian Prosciutto Crudo and Perugian Salami. while the Tuscan Cured Meat Platter has dry cured ham and Finocchiona Salami with fennel. Add their Mediterranean Platter with olives, semi curado cheese and mini chorizo and you're all set to watch Downton Abbey in peace.
unearthed® ® is a national brand partner of Action Against Hunger and have committed to donate 1p per pack sold to support their campaign. To view the full product range and for festive recipe ideas, visit www.discoverunearthed® .com