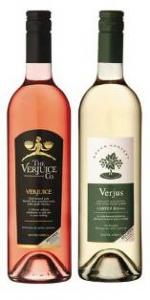 Verjuice has recently become available to British home cooks and chefs alike. This versatile product is made from the unfermented juice of unripe wine grapes, pressed from the green-harvested thinnings that, we are told, are high in acid and low in sugar. Its versatility as a flavour enhancer makes it an excellent alternative to lemon juice, vinegar or wine in your cooking – for those who like to avoid cooking with alcohol but still want the depth of flavour that wine gives to sauces, marinades and in poaching meats and fish.
Verjuice has the advantage of sharing the same acid-base as wine and because of that does not distort the essence of fine wines served with food, like vinegar (acetic acid) or citrus juice can. Having used both the rose and the white in my cooking, principally in deglazing pans when making sauces and gravies. I have found that it works particularly well in sauces for richer meats like duck and pork as it adds a fruity sweet edge to them, supporting those meats, in particular, very well. I am sure it would also add an excellent dimension of richness to sauces for game meats, which usually benefit from a sweeter fruitiness in them. I have also used Verjuice in making vinaigrette and found that it gives a softer end result with less 'bite' but a good depth of flavour. It is definitely a product that is worth experimenting with.
I understand that I am not the only person who is currently experimenting with Verjuice, renowned chefs such as Nigel Slater and Skye Gyngell have featured them in some of their latest recipes. Also, Peter Sidwell, up and coming celebrity chef and founder of the Simply Good Taste cookery school and cafe in Keswick (Lake District) is, we are told, a fan of the Verjuice products.
Verjuice is available directly for next day delivery at www.verjuice.co.uk. There are three Verjuice products: TVC Verjuice (750ml bottle £9.99), Green Harvest Verjus (750ml bottle £9.99) there is also a Caramelised Verjuice Syrup (250ml £6.36). For more information about Verjuice and how you might use them in your cooking take a look at their website through the link above, it might inspire you.