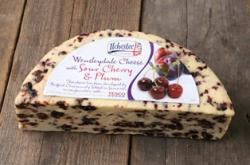 12 months ago, the speciality cheese blender Norseland Ltd and Tesco set out to find the brightest and most creative young business brains. They contacted a number of schools, and over 40 youngsters from four schools were invited to pitch their suggestions for a new cheese, in a Dragon's Den style competition, to be in with the chance of seeing their product stocked in Tesco stores.
Following a series of gruelling presentations, the traditionally crumbly texture of Wensleydale was chosen as the base cheese, complemented the natural bittersweet flavour of sour cherry and plum. This combination sealed the deal for eight children from Ansford Community School in Somerset with the Norseland Ltd judges and attracted Tesco to the product.
Due to go on sale in Tesco stores from September, Norseland's blended Wensleydale with Sour Cherry & Plum sounds an odd combination of flavours, but having tasted it, the crumbliness of the Wensleydale and its mild flavour does work with the fruits, and makes for a nice mouthful. For those of you who like to present an interesting cheeseboard it would be an ideal cheese both from its look and its novelty value. Some may like it on its own with biscuits as a dessert alternative, or perhaps with some crusty fresh bread as part of a ploughman's lunch.
Wensleydale with Sour Cherry & Plum will be available at the deli counter from all leading Tesco outlets, at £1.10 per 100g from September, why not give it a try?