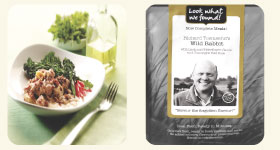 No it's the not the cry that goes up when we search the Financial Director's desk on a Friday afternoon, but the name of a range of ready to eat meals that show that fast food needn't be either tasteless or unethical.
These are dishes that feature the finest ingredients from 'best in show' small producers with full traceability right back to the individual farmer. They're made from 100% natural ingredients and are ready to eat in minutes, yet due to innovative packaging can be stored in the cupboard for months.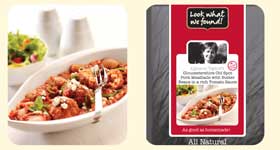 And they read like a menu at Mark Hix's or Corrigan's – Home Reared Beef in Black Velvet Porter with Maris Piper Potatoes, Cumbrian Lamb Hotpot, Mushroom Stroganoff with hand-picked Scottish Mushrooms, Gloucester Old Spot Pork Meatballs with Butter Beans in a Rich Tomato Sauce, Wild Rabbit with Leek and Elderflower Sauce & Camargue Red Rice – the list is as long as it is luscious with plenty of soups and sauces too and good choice for vegetarians.
There are thirteen gluten free options, with allergy advice given on the packing, which is adorned with a mugshot of the farmer behind the main ingredient. These people are prepared to stand up and be counted, such a difference from the faceless corporations that are behind most of what we eat today.
And if you're thinking this may not cost the earth but must cost a pretty penny, think again. £2.99 a pouch is great value for a meal for one that is pretty much complete and ready to go. The little beauties are even microwaveable, should you be so inclined.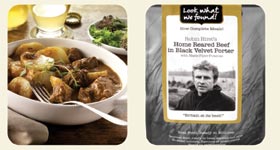 Look What We Found focus on relationships and responsibility -responsibility for knowing how farmers grow their crops, or rear and take care of their animals and are pleased to support, listen to and work with the food heroes who meet the very exacting standards set by their Director of Procurement. They treat their producers the way we would all like to be treated and aim to be fair, friendly and never aggressive or mean.
Their honesty extends to their website where they welcome challenging questions and all kinds of feedback. You can find that at www.lookwhatwefound.co.uk and you can look for the full range of products in Waitrose and Sainsburys, amongst others.