Is Marlow the new Ludlow? Is sous vide la nouvelle vague? Out by the Thames we ask the questions by talking to a chef at the heart of the matter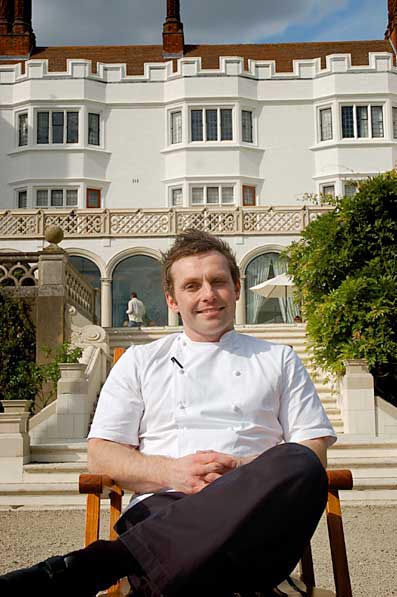 Sitting in some rare August sunshine out on the terrace at Danesfield House Adam Simmonds, Head Chef of the fine dining retuarant 'Adam Simmonds at Danesfield House' located behind us, slowly draws his gaze away from the fabulous vista of the Chilterns and Thames below him. 'Yes it is a fabulous location, ' he agrees, 'just fantastic."
The same could easily be said of the tasting menu lunch the photographer and I have just enjoyed, although enjoyed is probably too small a word. for a brilliant parade of dishes all perfectly paced and perfectly judged. 'If we push the boundaries here," Adam says, 'it's with flavours, not techniques." Now established in residence since 2007 Adam, who is a bit of a Richard Hammond lookalike and not a lot taller than me, has a straightforward accent and a manner that is far from cocky but which at the same time is firm and confident. When I mention that taking over here from Aidan Byrne, now at the Dorchester Grill, must have been a bit daunting he's quick to put me right. 'No, no, ' he shakes his head, ' I had a star, four rosettes Best Restaurant 2006 and all that in Wales already. I came here not with a reputation to make I came here because it was right for me, the right move at the right time."
That restaurant in Wales was Ynyshir Hall where he says, 'I turned it all upisde down. We lost a few customers naturally but we gained a lot more over the three years I was there. In the end it became a real food destination not just a hotel destination. We're going to do the same here, for sure," he adds confidently.
Some hotel chefs feel the job is beneath them, some that it's just a job. Adam has his own view. 'I'm fortunate," he points out, 'there are two restaurants here but my work is purely to look after 'Adam Simmonds at Danesfield House' . I don't have to worry about breakfast, the ordinary lunches or the afternoon teas or any of that. I concentrate just onthe fine dining."
And look after it he certainly does, with the restaurant now attracting guests who are coming for the meal and not necessarily for the hotel. 'It is a fairly long drive for anyone not local," he points out, ' and that has perhaps been a barrier but we are working at breaking that down. We're now, in a fairly small room, seeing ten to twelve for lunch, more for dinner and many are moving beyond the set de jour meals and going on to the tasting and a la carte. So I think things are definitely travelling in the right direction."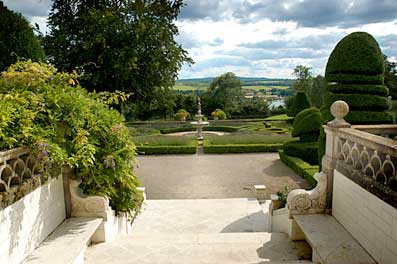 As we talk people are moving in the direction of the terrace and sitting around us, 'it's just so ideal," Adam, says glancing over, 'out here you can look at the menu, enjoy a glass of wine or champagne, have some nibbles. Then you have a nice leisurely meal then back out here for coffee and petits fours. And in the winter we have superb lounges, big fires, all that. It's perfect for a special occasion."
'And," he points out, 'it's all so affordable. I mean £29.50 for the de jour lunch? That's not bad is it? Not for what we offer. There's langoustine risotto and pigeon on as starters today. How many places deliver that for that kind of money?"
Of course Marlow isn't short of competition with many people calling it the new Ludlow. There's the Vanilla Pod in town, Aubergine soon to open at The Compleat Angler. 'And The Hand and Flowers, 'Adam adds. 'Tom (Kerridge) there is very good. I think it's good for all of us the way Marlow is being talked up," he says. ' Ludlow is a good place to be favourably compared with isn't it?" Certainly is, I agree.
'Adam Simmonds at Danesfield House' is at the vanguard of this foodie buzz because the food is just so good. Our tasting menu lunch was perfect. Adam explains his philosophy here, 'Nothing too heavy," he states firmly. ' The flavours are pronounced but not strong right across the board. Even desserts. I work closely with our patisserie chef to make sure the desserts aren't disjointed from what's come before. We talk about what we want to achieve and then get on and do it." He is, it turns out, very keen on involving his 'lads' at all stages.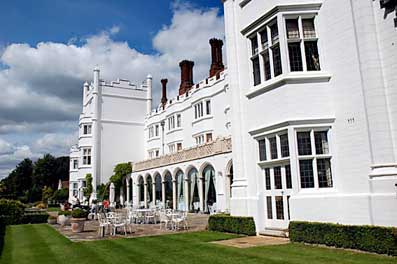 "It is so important that they understand the philosophy behind the dishes," he says. "They need to know how we get to what we serve because they are all going to move on one day and the knowledge they gain is vital. Also I want to know that when I'm not around, because I do want days off and the occasional holiday, that the food is exactly as good as it would be if I was here. They can hear my voice over their shoulder even when I'm not in the kitchen!" he laughs. 'You have to put the effort in," he insists. 'When I was at Le Manoir under Raymond Blanc I didn't hide in a corner and then put it on my CV. I worked and I put the hours in. You've got to or what have you learned? Nothing."
And while he is happy to use gadgets like sous-vide, 'it frees up stove space and is more reliably consistent because ovens can vary even during the course of service' he says, he isn't using them for their own trendy sake. 'It doesn't work that way. You have the basics down first."
Basically Adam is a great chef with a lot behind him and even more to come. With the Oak Room he has a place to shine and, with the hotel accommodation to welcome any London foodie looking for a brilliant break on a Friday or Saturday night, more people will be making the one-hour drive out from London to enjoy his unique and assured cooking. A new mantra for estate agenst perhaps? "Location. Location. Degustation!"