Sebastian Vince's Breadstall sells cakes, pies and stunning fresh baked pizzas too. What's more, it's on wheels.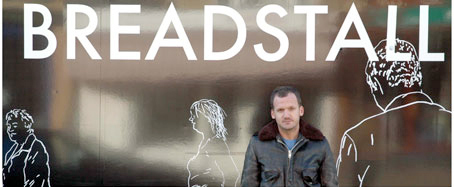 "Ten years ago it was just me and an umbrella" Sebastian Vince is saying as he lowers a slice of hot Pizza al Taglio into his mouth, one of many classic pizzas cut from a square slab and prepared and cooked fresh on his Breadstall bakery in Clapham's Northcote Road market. 'Back then I had a stall on Portobello Road," he continues. 'I just got a table, piled it up with fresh ciabatta and I was sold out by midday!" The umbrella, like his original stall, he bought second hand from France. The former from Paris, the latter from the South of France. 'The French do these things so nicely," he muses, but back then the £200 it cost him had to come from a bank overdraft.
Today we're standing and scoffing beside something that couldn't be called 'rural' by any stretch of the imagination. This is a gleaming state of the art trailer about the length of four cars and a beacon to everyone wandering the market street; from the bloke with the mechanical pavement sweeper to the legions of yummy mummies, the late Autumn sun glinting off their highlights, their expensive baby buggies and the chrome on Sebastians's Breadstall. 'It's a great area for food, ' he says waving his arm at the fantastic Hamish Johnson cheese shop behind him. 'When I first arrived the area was just on the turn with wealthy people moving in from Fulham. They wanted the sort of high-quality food I did and we were popular straightaway,"
The folding stuff
The Breadstall is about as hi tec as it gets. If it morphed into a giant robot and stalked off home after work you wouldn't be surprised. It took Sebastian twelve months of close consultation with AJC trailers in Luton, plus a great deal of money, to come into being and now it feeds the people with the best bread, pies, pizzas and cakes that Sebastian and his team can either source or make themselves. It boasts a two-deck pizza oven, a convection oven, banks of storage refrigeration, an on-board dough mixer and bespoke display refrigeration and hydraulics mean it all folds up and packs away with ease to spend the night snug and secure at the roadside.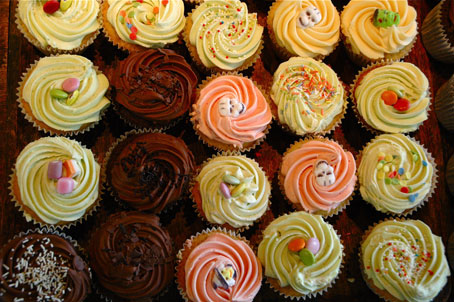 The food on offer is remarkable; a selection of breads ranging from Pumpernickel to Sourdough to traditional Baguettes served plain or with fillings such as French smoked ham, mature cheddar, and Napoli Salami; handmade Patisserie, Cakes, and Portuguese Custard tarts, Viennoiserie using only Normandy butter as well as a selection of freshly baked meat pies and sausage rolls, made from meat hand-picked from Smithfield.
Sebastian reels off names of suppliers, a who's who of quality in the business. 'Well, we use about fifteen different suppliers," he explains, 'we bake a lot of stuff ourselves but there are a lot of great artisan bakeries out there who normally supply mainly restaurants, it's quite rare to find so many of these suppliers all under one roof as it were."
'Kitty at Browns catering makes these cakes which are very, very popular, ' he says pointing at a splash of vibrant colours. 'The cupcakes are made up in Primrose Hill, they're all natural just using butter and natural colourings, and kids love them. They're very trendy actually, it's unbelievable but we sell about a hundred and fifty a day! We use Maison Blanc for the patisserie and Bagatelle, although we're now starting to make our own tarts now, it's better and fresher."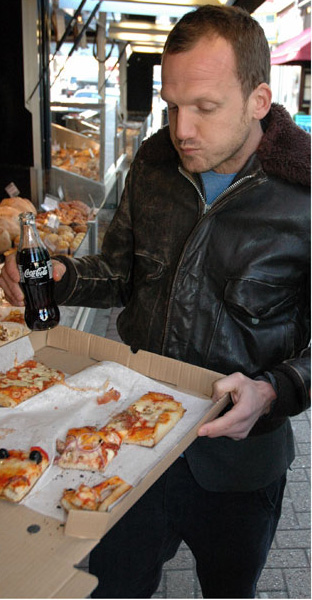 I've been looking, perhaps better to say staring, at the massive slabs of pizza coming out of the oven. ' It's army grade," Sebastian tells me,' these ovens are designed to work in the field and feed soldiers. It's great, totally reliable and self contained." My but those pizzas and pies look good and, guess what? Coincidentally it's lunchtime. Sebastian was a bit peckish himself so had ordered us up a selection. ' The base we use is more like a focaccia," he explains as I tangle my fingers in melted strings of cheese and poke pizza down. ' I think it makes a better base than thin and crispy, it has a nice texture." It certainly does and now we're tasting the pizzas it's easy to see why they are so popular.
Quality and quantity
'I think you have to get the mix right with this sort of thing," Sebastian's voice is now a bit muffled by the pizza he's eating, 'people like to see the pizzas being made and it's attractive and informal. You don't need to go into a shop, here you can see people gravitating up toward the pizza section and what you see is what you get"
What you get is a great deal for the money, a piping hot, freshly made pizza that's bang on for flavour. In fact, if it's lunch you're looking for then the whole trailer has plenty of choice such as gorgeous sandwiches bursting with crayfish. 'Yes," he agrees, 'they're packed and worth the £4.00. I mean I personally prefer to pay £1 more for a sandwich to get real quality. You know we make only twelve sandwiches out of a tub of crayfish. We could use less but that's not how we work."
Soon I am loading up on a variety of one person pies, all toasty warm to eat on the spot but equally good to take home and reheat as well as eyeing up the biggest sausage rolls I've ever seen.
As we walk away we can still smell the pizza aroma wafting down the street and can see peoples' noses twitching appreciatively. Street food can have a bad rep, but this state of the art and tasteful stall is showing how you can keep it real and keep it clean and tasty.