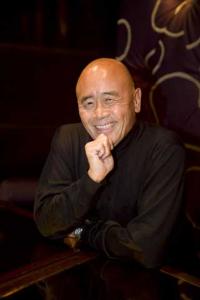 As children, we all had idols. We all wanted someone to look up to, from pop stars to movie stars… there was always someone that inspired us to want to be just like them one day and Ken Hom (OBE) was that person for me. I remember back in 1984 when I was 7, I would beg my Mum to let me stay up and watch his show. From what I recall, it was on at around 9pm, so not entirely child-friendly programming, but I was adamant I had to watch the show.
We didn't really have many culinary idols to worship at the time. I was too young to appreciate Delia's sensible approach to cooking and although Fanny Craddock had been around for a long time before the 80's, she may have been entertaining but she was certainly not a Chef.
Ken Hom is a Chef. The grand master of Oriental cookery and my obsession began with him. Despite being a household name, with 23 cook books under his belt and over 7 million Ken Hom woks sold, meaning that 1 in 8 Britons own one, Ken Hom manages to remain a humble man who evokes warmth and has the ability to 'soothe' you with his calm manner, whilst making you laugh with his sense of humour and wit.
Portraits: Isabelle Plasschaert
1) 2009 has proved to be a fantastic year for you so far, especially as you have received an OBE from the Queen. What does your OBE mean to you?
The award is incredibly humbling and I am very honoured that my contributions to this country have been acknowledged. I think it is also a 'coming-of-age" for pioneers like myself who are hitting 60.
2) Last month saw the launch of your new range of oriental meals at Tesco, tell us a bit more about the range and how it came about…
This partnership is something that came around at the right time and because of my reputation, I'm fortunate enough to be able to demand certain standards, whereas before I never had the authority to do that. Its interesting to make food like this and actually be able to control quality and give your input and not just your name.
3) Apart from cooking, what are some of your other passions in life?
Well, I recently did a show I did for Korean television called 'Noodle Road" and about 15 million people tuned in to watch it. Suddenly, at 60, I find my career is booming and its all keeping me out of trouble, which is good because cooking is a passion and all roads lead to food, in life.
4) How do you cope with today's pressures to constantly update and reinvent yourself and your brand?
I keep things simple and focused and choose to turn down business that may lead me into too many different directions. Ultimately, it is dangerous to the brand as energy gets dispersed into quantity and not quality.
5) With British food and produce becoming more popular than ever, where do you see Chinese cuisine heading in the future?
I think Chinese food is embedded as part of British Culture. Yes there is more and more emphasis on British cooking, which is a good thing, but that doesn't rule out influences of Chinese or Indian food, which will always have their place here, just like fish and chips!
6) Which is your favourite UK Chef and why?
That's so difficult to pin point as I like Rick Stein because of what he has done to champion seafood, Jamie Oliver for inspiring our young generations to cook and Gary Rhodes for pioneering 'Back to Britain" and for being so passionate about British cooking. I also have enormous respect for people like Maddhur Jaffrey and Delia Smith too.
7) You now live in France, but when you are in London, which restaurants do you make a beeline for?
I love 'Royal China' in Bayswater and 'China Tang' at The Dorchester has picked up its stride. 'Alain Ducasse' is also fantastic and the new 'Pescatori' is very good too.
8) Where was the best meal you'd ever had and what did you eat?
That is a hard question to answer as there have been so many, but I had the truffle menu at Joel Robuchon's 'Jamin' restaurant in Paris, in the 1980's using winter truffle in every course and it was definitely really special.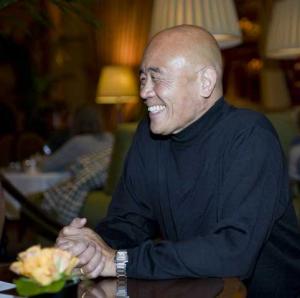 9) With a new product range at Tesco, an OBE and the success of your 'Noodle Road" show, what is next on the agenda?
I'm basically going to continue doing what I've been doing. I have a restaurant in Bangkok and it takes up a lot of my time and we are expanding with the hotel group that own the hotel where my restaurant is located.
10) If you were granted one final meal on earth, what would it be and who would you share it with?
I would have to share it with a slew of friends and a massive amount of caviar. Albino Sturgeon caviar, oodles of it! Then some Chilean sea bass wrapped in rice paper and some Peking duck. For dessert, some exotic fruits washed down with a huge amount of Champagne and Claret.
Ken Hom's new range of dishes is now available exclusively at Tesco.