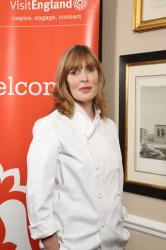 Sydney born, Paris trained and London lived, Skye Gyngell is working with VisitEngland on their latest campaign. Devoted to the kaleidoscopic range of Britain's food and drink Gyngell hopes to promote the best of British in this latest collaboration. Lara Cory had a chat with Skye to find out what she loves about British food, and how far she's travelled for a good meal.
1)       How did VisitEngland end up coming to you for this campaign?
VisitEngland is working closely with Heckfield Place and is very supportive of our plans for the restaurants. The fact that we will be able to grow much of the produce within the hotel grounds takes provenance to a whole new level and is very in keeping with VisitEngland's efforts to showcase English food and drink. I think the fact that I'm an Australian who advocates English produce also appealed.
2)       Not being from here, does this makes the process of discussion and discovery for this campaign easier or harder?
I'm not sure if it's easier or more difficult – but I very much chose to make England my home.  I have lived here for over 25 years and still love it just as much as when I first arrived. I think growing up in another country you never really know where exactly your home is but I still remember when I first arrived in England and how excited I was – and I still get excited when I travel around and am filled with a feeling and sense of wonder.  I find it very beautiful, its landscape particularly.  Very different from where I grew up in Sydney. I also love the climate, strangely! It really suits me.
3)       Can you tell me about your experience with UK cuisine and produce?
England is blessed with very specific seasonal produce – perhaps here more than anywhere else. Due to the climate, certain English produce is only available during certain time frames and I find that a lovely way to work. For example, Damsons have a very short season of no more than 3 weeks in early September – asparagus six weeks from mid May to the end of June.  Game season starts on the 12th August ( no earlier or later ). Lovely little prawns known as Poole prawns from the Dorset coast for the month of September – I could go on infinitum.
That ebb and flow of the seasons inspires my cooking and helps to keep it fresh.  There are also so many fantastic Artisan British producers and we are seeing the emergence of more all the time. Beautiful cheeses and award winning wines – incredible meat and the best seafood in the world.
4)       What of England's culinary history inspires your work?
I think British food had a fairly bad reputation for a long time, but that image is definitely changing.  We now have an incredibly vibrant restaurant scene, especially in London. There are so many young chefs doing great things and it is now possible to eat good food at not such exorbitant prices. Historically, I love some of the quirkier aspects of British cooking and I think traditional English cannot be beaten.
5)       What produce/ingredients do you enjoy using most?
That's almost an impossible question to answer! Anything beautiful and at its best. I love cooking with vegetables; there is so much scope and nuance of flavour. Cheeses fascinate me as do honeys, the list goes on!
6)       Where do you find culinary inspiration?
I get inspiration from everywhere and everything. Not necessarily food but colours, shapes and textures as well. I find gardens incredibly inspiring – seeing things grow in season makes you want to cook them and treat them with respect, especially when you see where they have come from.  Flowers really inspire me and nature's colour sense. I also read a lot. I have a huge cook book collection and enjoy reading the works of cookery writers such as Elizabeth David, Simon Hopkinson, Geoffrey Steingarten, MK. Fisher, Richard Olney and Patience Gray.  Restaurants and travel inspire me as well.
7)       What's your favourite travel destination within the UK?
I love Devon and Cornwall. Cornwall because my oldest friend has a house just outside of Fowey and it holds a lot of good memories of the kids growing up, lots of exhilarating hilltop walks and long lazy meals. It's also a place where I tend to cook a lot, in a very different way to how I cook at work. Its much less about perfection and more about just mucking in with everyone – I love that! I also recently went to the New Forest and was really struck by its beauty – its landscape was so surprisingly different from anywhere else I had been in the UK – it almost felt other worldly.
8)       How far would you travel for food, and where would you go?
I've travelled all over the world for food and it definitely influences my choice of travel destinations. I went to Copenhagen just for lunch recently and was back in time to say goodnight to my daughter. As a result, anywhere in the UK seems accessible to me. I often visit producers and suppliers especially at the moment because at Heckfield we really want to concentrate on real food, sustainably produced, and sourced locally. Next week I am off to see two different Mills in Hampshire who are producing some really good stone ground organic flours and then off to Gloucester to visit a cookery school there that is doing some great things!
9)       And finally….can you tell us anything about your London project for this year?
Fingers crossed the London restaurant will be open later this year. The food will be simple with an emphasis on beautiful produce cooked without fuss. I think the restaurant itself will be very beautiful and have a very definite female energy about it.
Skye Gyngell is Culinary Director at Heckfield Place www.heckfieldplace.com