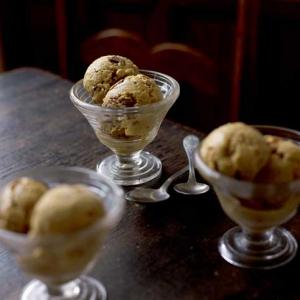 Guinness honeycomb ice cream
No one would guess that this coffee-coloured ice cream contains Guinness if they didn't know. Keep them guessing – it's utterly delicious.
Preparation time: 30 minutes, plus freezing
Cooking time: 15–25 minutes
Serves 4
Ingredients:
6 egg yolks
125g light muscovado sugar
300 ml single cream
150 ml draught Guinness
2 x 40g  chocolate-covered honeycomb bars, chopped
Method:
Put the egg yolks and sugar in a large heatproof bowl set over a saucepan of simmering water.
Stir until the sugar has dissolved, then remove from the heat.
Heat the cream and Guinness in a nonstick saucepan to just below boiling point – don't worry if the mixture looks slightly curdled.
Pour over the egg yolk and sugar mixture, beating well with a balloon whisk.
Return the mixture to the nonstick pan and cook over the lowest possible heat, stirring constantly, until the custard starts to thicken and coats the back of the spoon. This will take at least 10 minutes and up to 20 minutes.
Pour the mixture back into the heatproof bowl and leave to cool completely, then stir in the chopped chocolate-covered honeycomb bars.
Turn the ice cream into a shallow plastic container and freeze for 2 hours.
Remove it from the freezer and stir well. Return to the freezer until completely frozen.
When ready to serve, leave at room temperature for a few minutes to soften slightly.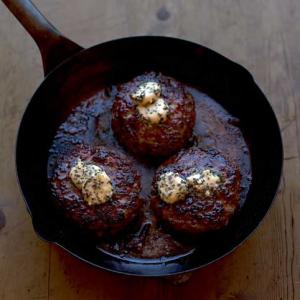 Steak & Guinness burgers with rosemary & garlic butter
Minced beef is marinated overnight in Guinness, then mixed with roasted red onions, griddled and served topped with rosemary and garlic butter to make a memorable burger.
Preparation time: 20 minutes, plus marinating, chilling & freezing
Cooking time: 10 minutes
Serves 6
Ingredients:
500g quality lean minced beef
150 ml draught Guinness
1 large red onion, finely diced
olive oil, for drizzling and oiling
3 smoked streaky bacon rashers, finely diced
1 tsp creamed horseradish
1 free-range egg, beaten
½ tsp paprika
2 heaped tbsp plain flour
1 sprig rosemary
75g butter, softened
1 clove garlic, finely chopped
salt and pepper
Method:
Lay the minced beef out in a shallow dish and cover with the Guinness. Using your hands, massage the Guinness into the meat.
Cover with clingfilm and leave to marinate in the bottom of the refrigerator for at least 12 hours.
Preheat the oven to 150°C/300°F/Gas Mark 2.
Spread the onion out in a baking dish, sprinkle lightly with salt and drizzle with oil. Scatter the bacon over. Roast for 15 minutes, then leave to cool.
Lift the beef out of its marinade, gently squeeze out any excess liquid and put the beef in a large bowl.
Add the roasted onion and bacon, the horseradish, egg and paprika, season with pepper and sprinkle the flour over.
Using your hands, mix together well and divide the mixture into 6 equal portions. Form into round patties about 2.5 cm (1 inch) thick.
Carefully lay the patties on a baking sheet lined with greaseproof paper, cover with a second sheet of greaseproof paper and chill in the refrigerator, for at least 1 hour and up to 6 hours, to firm up.
Meanwhile, pluck the rosemary leaves from the stem and plunge into boiling water for 30 seconds. Drain, then chop as finely as possible.
Add to the softened butter and garlic in a small bowl and beat together well. Lay a piece of clingfilm on a flat surface, form the butter into a sausage about 3.5 cm (1½ inches) in diameter and roll up  to enclose.
Freeze for 20 minutes until set.
Lightly oil a griddle pan. Heat until just beginning to smoke, add the burgers and cook over a high heat for about 5 minutes on each side, or until well browned on the outside and just pink inside.
Serve immediately, each burger topped with a slice of the rosemary and garlic butter.