Watch your trolley. These days, you can't afford a wonky wheel in the'World Food' aisle. Shelves from foot to forehead are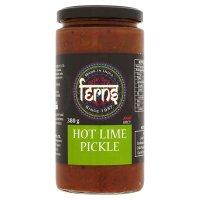 crammed with more jars of pastes, pickles, chutneys and condiments than you would care to be flattened by, and a single ill-judged move could be dangerous. And messy. Very, very messy.
And, death trap aside, how do you sort the sublime from the ridiculous? How do you live a liberated life free of a fridge full of half-empty horrors? How do you tell the lovingly-made, time-tested tandoori paste from the celeb-endorsed curry sauce or the restaurant-branded ranch dressing? Well, for a start, you could have a careful rootle'til you turn up'Ferns'.
Mrs. N. Fernandes might not grace the pages of glossy food mags, slink her way across our TV screens, or have her name inextricably linked with a particular protein, but when it comes to business, she's a star in her own right. A success story since 1937, if you will. From her hometown, this little lady set up a pioneering range of prepped preserves that pleased even Pune's pickle purists.
A factory followed, as did the notion of the jarred paste, providing an alternative to the available dry spice blends – the'wet masala' keeping the flavours both intact and vibrant. As Brits finally ventured beyond Vesta,'Ferns' moved into export, and the rest is the proverbial 'history'. Back in India, the third generation of the Goan family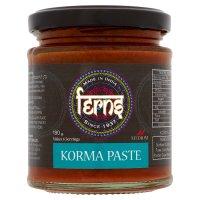 still manage the masalas' march across the globe.
Now Waitrose is firmly on the'Ferns' wagon, so I suggest you hop on board. The fruit in the tangy, twangy lime pickle is hand-picked from farms that butt against the Western Ghats. The pastes may be named for our beloved Indo-Brit curryhouse favourites – Madras, Tikka Masala, Korma – but these are recipes rooted firmly in tradition, produced with integrity. Steer your wonky-wheeled trolley firmly forth.
'Ferns' masala pastes and Lime Pickle are available from Waitrose with 25% until April 2. To view the range, visit www.b-opie.com/ferns