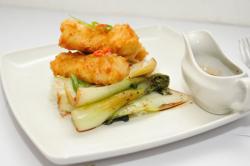 Opening on the 20th of March,
Simply Fish
 are joining Boxpark with their sustainable selection of seafood.  Simply Fish's USP is very simple…….it's fish. Delivered fresh from Looe Cornwall each morning. A fun and unfussy menu, which allows customers to pick how they would like the catch of the day cooked, what sauce it will be served with and a side dish too, means plenty of choice for all.
The team have been serving up rom their Camden branch since August 2012, with goodreviews from press and public. Simply Fish Shoreditch will have a prime spot on Boxpark's first floor and, with a 54 seat restaurant and some electric delivery bikes, be serving the City and East London with sustainable seafood.   
On the 18th April,
Rhum Shack
, Cottons(currently located in Camden) will be opening. They will be offering a menu of Caribbean food and, of course, cocktails within their customised tropical rhum shack inspired pop-up space.
Lastly (for the moment) 
Street Feast
will be taking over Boxpark every Thursday evening for 12 weeks this summer. They will be bringing in a variety of street food vendors to set up on the cobbled area outside Shoreditch High Street Station and upstairs on the top deck at Boxpark.