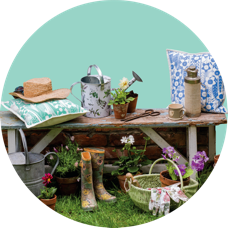 The Country Living Magazine Spring Fair takes place next week (20-24 March) in London at the Business Design Centre.  Amongst the various features and hundreds of small independent retailers who are presenting all good things for a country lifestyle there is a dedicated food and produce area which will be promoting regional treats.  
There is the Truckle Cheese Company offering its Vintage Mature Cheddar and blue cheese truckles, numerous chutneys and pickles such as the Four Fruit Preserve from the Carved Angel; wonderful sausages and salamis; specialist chocolatiers – with ideas for Easter; small batch producers of bread and cakes.  There are UK tea producers and specially roasted coffees.
Teapigs are on a mission to get the nation drinking real tea. Their teas contain only the very best quality whole leaf teas, whole herbs, whole berries and whole flowers – no dusty stuff in sight!  Artisan olive oils from Italy and Mediterranean food. For curry lovers and international palettes there is an award-winning range of curry sauces chutneys and pickles from Anila's Authentic Sauces and Global Fusion's Creole vegan food. Spirited ideas include Gin & Tonic marmalade from Baked in Belfast or Coole Swan dairy cream liqueur from Scion Spirits.
Alongside are serving suggestions such as hand carved chopping boards from Croglin designs, or beautiful cool slates from Platters Slates. Personalised toast racks are available to commission from Make Me Something Special. Simply Vintage Designs has a charming array of mix and match cakestands to give teatime a real sense of occasion.
For Easter celebrations there are farmyard inspired egg cups from Baked in Belfast and a wonderful collection of chocolate Easter characters from Auberge du Chocolat. 
Join Leith's teachers at the Country Living Fair as they demonstrate how to make some seasonal meals for Easter.  Make your own flavoured chocolates with Fiona Sciolti – a multi-awarding Chocolatier who creates extraordinary seasonal chocolates using real fruits, flowers, teas & herbs, as well locally sourced ingredients. Renowned popular foodwriter Sean Bird will be demonstrating some of his self penned recipes under the heading "Seasonal Patisserie and Traditional Cakes."
Special FP ticket offer – special price of £11.50 by quoting CLS3
Tickets must be booked no later than 1pm on the day before the due visit.  TELEPHONE: 0844 848 0160; or book online at www.countrylivingfair.com/spring
20-24 March 2013
Address                             Business Design Centre, Islington, London N1 0QH
Nearest tube:                     Angel – Northern Line (Bank branch)
Opening Hours:                  Wednesday 20 March, Thursday 21 March – 10.00am to 6.00pm
                                      Wednesday Gala Evening – 6.30pm to 9.00pm
                                      Friday 22nd – Sunday 24th March – 9.30am to 6.00pm
S