Would you Adam and Eve it? In the decade since Westminster's finest Indian restaurant opened its doors, the kitchen has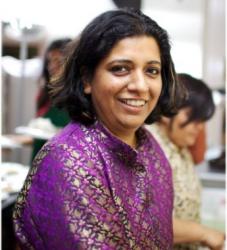 never admitted an outside chef. So it would take a rather special individual to convince Vivek Singh to flaunt the unspoken convention.
Asma Khan is said special individual, who decided to let her food do the wooing. Vivek came to her home, ate the meal she'd prepared, wiped his mouth, and promptly invited the Darjeeling Express supperclub founder to host a pop-up Calcutta lunch at The Cinnamon Club.
Somewhat legendary on the London supperclub scene, Asma's earnt her reputation through her exacting manner with everything from sourcing perfect produce to sticking faithfully to the time-tested recipes she travelled back to her ancestral kitchens to master.
Bear in mind, these recipes are not merely your Mum's midweek fallbacks. Rooted in four generations of Mughal tradition, the food of Asma's kitchen honours, obeys and celebrates Calcutta's traditions and makes grown men weep – or, at least, stuff in just a smidgen more.
At The Cinnamon Club, Asma will plonk the entire food spectrum of the vibrant Bengali capital on a plate, in a feast commencing with canapés and concluding with a right Royal biryani. The menu reflects Calcutta's contrasts – from steamed'momo' dumplings to giant prawns in a rich ravy.
Asma reckons that every immigrant community has left its own positive legacy on Calcutta's food – even we Brits had a part to play, the Raj birthing the host of Anglo-influenced dishes that remain today. If you know this city, you'll be right at home. If you don't, the discovery will be delicious.