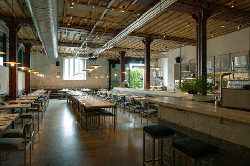 UK Coffee Week kicks off on 23rd April and, to celebrate, Caravan Coffee Roasters are introducing new coffee workshops at their King's Cross roastery, launching on Saturday 13th April.
Following on from the success of Caravan Exmouth Market, the first establishment in London to combine an in-house roastery and restaurant, Caravan opened their second site on 13th August 2012. The coffee roastery, now located at the new King's Cross venture, supplies both Caravan restaurants, as well as wholesale and retail customers throughout London and the UK. 
During the coffee workshop, head-barista, Baptiste Kreyder will introduce you to the different types of coffee bean, coffee production methods and individual flavour profiles. After the workshop, you'll be able to test your coffee palate with a mini-tasting accompanied by complimentary pastries, made on site.
For coffee-connoisseurs, or those keen to learn something new, subsequent workshops will specialise in coffee roasting; latte art; espresso making; cupping; and home brewing.
The coffee workshops will be priced at £15 per person and will run fortnightly from Saturday 13th April, from 10am-11am at Caravan King's Cross, for up to 8 people.
Reservations for the classes are now being taken on 0207 101 7661. www.caravankingscross.co.uk