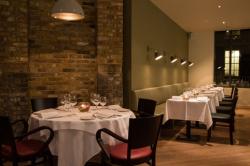 Park Street, SE1 9AD www.delmercato.co.uk
Pizza, lasagne and spaghetti bolognese are satisfying comfort foods but they're not usually very innovative dishes. It's easy for Italian restaurants to make a quick buck churning out mediocre versions of'classics' to people who are more interested in a night without washing up than a particularly arousing gastronomic experience.  
It's a shame Italian cuisine has, to a certain extent, become associated with slap-up convenience when there are chefs producing exciting, inventive Italian dishes with flair and finesse.
First impressions of the restaurant in Del Mercato, a new venture opened by the owners of Vinopolis, are promising; it certainly feels more Zucca than Zizzi. There is a bakery on the ground floor supplying bread to the restaurant, which sits above a separate trattoria where you can eat stereotypical Italian fare in more casual surroundings. The restaurant menu, however, speaks of ingredients and dishes far more unusual than pesto or mama's special meatballs. 
A basket of focaccia, grissini, ciabatta and brown bread is brought over shortly after my friend and I are seated. The other bits we're given, like olives and two pieces of charcuterie, are good but the bread at Del Mercato is excellent. We don't pick at it we just pause for the sake of manners while semi-inhaling all of it. 
When A's starter of pan-fried Toma Brusca cheese arrives shortly after my plate of seared tuna, she looks at me rather dolefully and suggests she may have made the wrong choice. I make a distinctly underwhelming effort to conceal my suspicion that she's correct. 
For the tuna is a fetching plate of food. Several discs of maroon tuna have had the most fragile of kisses with a hot surface and are stacked like a collapsed domino trail across trails of aubergine cream and a tapanade-esque dressing. The components work well together and my only gripe is that the tuna, I assume intentionally given just how chilly it feels, is served cold when it would be better warm off that hot surface. 
Meanwhile, the flat slab of fried cheese sitting atop artichokes and lettuce has wilted everything beneath it. The contrasting textures have disappeared and the dish is a slightly beige experience. It's not awful, it's just not the tuna.'I'm still thinking about having a massive basket of the bread we just ate with a bucket of that balsamic vinegar,' murmurs A, in a state of reverie. 
She snaps out of it when our mains arrive. Both pork belly and lamb shank are beautifully cooked; I prod gently at the shank with my fork and the meat immediately slinks off the bone. The Chianti gravy is very good, as is the accompanying celeriac mash and spinach, even if the celeriac has been slightly muted by the amount of butter in it. A touch of salsa verde or somesuch would give the dish another dimension, as well as making it sound more Italian, but what's on the plate already is very enjoyable. We make happy noises until our plates are clean. 
Tiramisu is advertised with coffee sauce and had me forecasting viscous, rich, bitter goo rolling round my tongue with a boozy, gluttonous mouthful of cake. When it comes, the sauce amounts to a rather tragic dry smear under a deep, square piece of pudding. There's a reason smears of food went out of fashion and this is it.
The tiramisu itself is a lovely texture but I'd prepared myself for pudding-porn and a lack of booze in the cake and sauce on the plate meant dessert felt as racy as a quiet Sunday afternoon in the living room of an elderly, deaf relative. 
A's deconstructed millefeuille was better, delightfully lacking as it was in anything remotely smeary, but I could tell from her stare into the middle-distance between increasingly absent-minded mouthfuls that her mind had wandered back to the bread again. 
The restaurant at Del Mercato does not trump the best Italians in London but there were enough highlights during our meal to suggest that the kitchen is only a few tweaks and additions away from consistently providing the kind of fine Italian food the restaurant scene generally lacks. 
If you are able to prepare yourself for a slightly pricy wine list and the possibility of a minor misstep with the odd dish then you'll put yourself in the way of some very good cooking. Our main courses showed the potential the restaurant has and it seems from the chefs' lust for feedback that the food is only going to get better.
Del Mercato has only been open three months and it will be interesting to see how it develops. We have to go back for more of that bread so we're sure to find out.