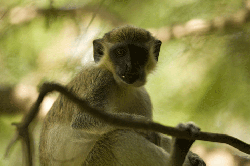 With a wave of property development about to commence across the islands including a private jet terminal and marina – swanky hotels, smart restaurants and fancy bars will no doubt be the order of the day in years to come. But for now, finds Judith Baker, there is a taste of the simple life about St Kitts and Nevis which is as sweet as the sugar that made it so loved by the British 
There are more monkeys than people on the tiny twin island state of St Kitts and Nevis, I am told. So maybe I shouldn't be surprised that if there is'Tree Mutton' on the menu it was probably swinging in the mango groves not too long ago. The green vervet monkey brought here by the French as pets with its cute face and big eyes is a pest in this part of the Caribbean, stealing fruits such as sour sop and mangoes
I decide the Green Vervets probably look sweeter than they taste, and opt instead to sample some other island fare.  These islands were the first colonies in the Caribbean and were prized by the British as the model for the plantation system based on sugar and slavery.
So naturally the sweetness is found everywhere, from the sugar cakes handed out on the St Kitts'Sugar Train' the only railway in the Caribbean – to the rums drunk everywhere from'The Strip' of simple beach bars such as Mr X's Shiggedy Shack to the upmarket Marriott hotel. They range from the locally blended Belmont Estate rum to the Shipwreck spiced rum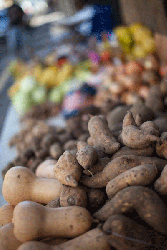 Although they share the climate and beaches of other Caribbean islands, St Kitts and Nevis have avoided mass tourism and as such their cuisine is slightly different. Yes you find the usual jerk chicken and rice n' peas in the beach bars and street stalls, but the islanders also pride themselves on a hearty, healthy cuisine which includes steamed breadfruit, goat water (a stew), saltfish and oxtail. At the weekends souse appears on local menus – served and sold with black, white or steamed savoury pudding it is a favourite among locals and definitely a must-try for visitors. Souse is made by fully cooking the meat and then marinating it for a long time in a solution made of fresh lime or lemon juice, vinegar, salt, parsley, minced hot pepper and cucumbers.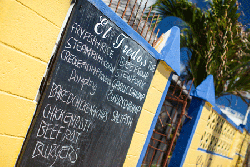 El Fredo's in downtown Basseterre has an unassuming exterior and built next to a petroleum plant, not the classiest location. But this is a ruby in the dust. The Welsh flag fluttering inside is the first indication that this isn't your usual West Indian hangout. The specials on the blackboard at El Fredo's near the port include: Creole snapper, Mahi Mahi, plantain fritters, oxtail and fry fish. Dumplings, plantain, yams and dasheen add substance to the other home made dishes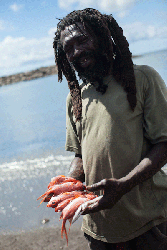 I find that owners Kenneth and Jasmine are native St Kittitians who have returned here from Cardiff. The place is packed at lunchtime with a mix of tourists and local workers, reminding me that this is a working island as well as a holiday destination.
But with a wave of property development about to commence across these islands including a private jet terminal and marina – swanky hotels, smart restaurants and fancy bars will no doubt be the order of the day in years to come. But for now there is  a taste of the simple life about St Kitts and Nevis which is as sweet as the sugar that made it so loved by the British