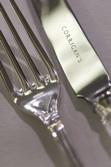 Richard Corrigan's award winning restaurant Corrigan's Mayfair is offering guests a fantastic offer that'll slash the size of the bill when you dine at Corrigans throughout August. Just bring your own bottle of wine and they'll open it for you so you can enjoy your food with your favourite tipple from home.
To take advantage of the BYOB offer order a minimum of two courses from the a la carte menu in the bar area before 7.15pm or after 9pm.
With a wide selection of top quality dishes to choose from, the only hard part is deciding what to eat. Featured on the menu are Oysters & Vietnamese Dressing £12 to start, followed with Pan Roasted Cornish Scallops with Sweetcorn & Foie Gras £27.50 or Saddle of Wild Rabbit, Girolles & Asparagus £22.75.
Corrigan's Mayfair is famed for it's food and chef Richard Corrigan takes great pride in the imaginative menu he's created using the best seasonal ingredients with a focus on wild, flavour-rich cooking in decadent surroundings.