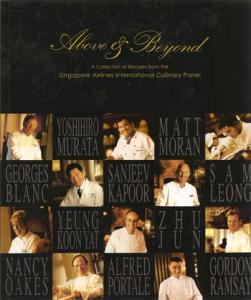 Above and Beyond is the collected recipes of Singapore Airlines International Culinary panel, ten top chefs, including our own Gordon Ramsay, who devise and direct the remarkable food served on Singapore Airlines flights.
To find these ten chefs in one book is a unique event, the signature dishes of stars such as Georges Blanc, Sanjeev Kapoor, Nancy Oakes, Alfred Portale and Zhu Jun.
There's tender braised abalone, fragrant osmanthus jelly, intense pistachio lamb rack and an updated pot-au-feu, lobster tian and a deconstructed banana split.
The photographs are excellent, the instructions easy to follow. There's a glossary of ingredients and menu suggestions as well as potted bios of the ten top chefs.
Singapore Airlines pioneered the concept of a Culinary Panel to advise on in-flight meals back in 1998 to bring world gourmet cuisine to their passengers and to reflect the cooking of the countries the airline flies to.
The panel meets each year to discuss and focus on new trends and new ideas and to take up the challenges posed by dining at altitude and to bring constant variety to regular travellers.
This book's recipes have all been tweaked for the home cook and it gives a taste of just how privileged Singapore Airlines customers are as they cruise above us eating better than many of us eat on the ground.
Here are two examples of the dishes, to discover more buy the book at KrisShop via mail order or online at krisshop.com. All proceeds go to the Community Chest of Singapore Charity. Postage is FREE to anywhere in the world
Pot-Au-Feu of Beef, Baby Vegetables and Beef Broth Serves 4
Gordon Ramsay
This pot-au-feu offers clean wholesome tastes and flavours, just tender beef cheeks served in a clear broth, surrounded with lightly poached vegetables.
Beef Cheeks
600 g (1 lb 5â…" oz) beef cheeks, trimmed and left whole
240 g (8½ oz) carrots, cut into chunks
160 g (5â…" oz) turnip, cut into chunks
160 g (5â…" oz) leek, thickly sliced
240 g (8½ oz) onions, peeled and cut into quarters
1 clove
1 bay leaf
Salter and pepper to taste
Unsalted beef stock, as needed (page 148)
Baby Vegetables
300 g (11 oz) baby vegetables
(leeks, carrots, brussel sprouts)
200 g (7 oz) fingerling potatoes
Condiments
4 tsp sour cream
1 tsp grated fresh horseradish
(available from gourmet stores)
4 Tbsp horseradish sauce
Salt to taste
Pickled baby gherkins
Dijon mustard
Place beef cheeks in a pot and top with carrots, turnip, leek, onion, clove and
bay leaf. Season with salt and pepper, then add enough unsalted beef stock to
cover ingredients. Cover pot and simmer for about 6 hours until meat is tender.
Remove meat and strain stock. Discard vegetables, clove and bay leaf. Slice
meat and set aside.
Return stock to the boil and adjust seasoning to taste. Clarify stock by skimming off any scum that rises from time to time.
Blanch baby vegetables in stock. Drain and set aside.
Steam potatoes, then peel and slice.
Fold sour cream and grated horseradish into horseradish sauce. Taste and adjust seasoning with a little salt.
Arrange beef cheeks on serving plates with baby vegetables and potato slices. Ladle hot stock over and serve baby gherkins, mustard and horseradish cream on the side. Garnish as desired.
---

Crab Curry Patta, Malaba-style Serves 4
Sanjeev Kapoor
Enriched with fresh grated coconut and enlivened with spices and curry leaves, this dish of curried crabmeat is set to wet the taste buds for the meal ahead.
250 g (9 oz) whole crabs
5 Tbsp cooking oil
1 tsp black mustard seeds
1 tsp fennel seeds
10 curry leaves
1 brown or red onion, peeled and chopped
1 thumb-size knob young ginger, peeled and sliced
2 cloves garlic, peeled and chopped
2 green chillies, chopped
125 g (4½ oz) freshly grated coconut
½ tsp ground turmeric
½ tsp red chilli powder
A pinch of salt
1 Tbsp freshly squeezed lemon juice
Mint Chutney
1 cup mint leaves
2 cups coriander leaves (cilantro)
3-4 green chillies
Juice of 1 lemon
Salt to taste
½ tsp sugar
1 thumb-size knob ginger, peeled and chopped
1 tomato, chopped
Crab Claws
1 tsp ground turmeric
A pinch of salt
4 crab claws, cracked
Prepare mint chutney in advance and keep refrigerated until needed. Put all ingredients into a food chopper and process until fine. Adjust seasoning to taste.
Clean crabs, then steam until they turn red and are cooked. Crack shells and remove flesh. Set aside.
Heat half the oil in a pan and sauté mustard seeds, fennel seeds, curry leaves, onion, ginger, garlic, green chillies and slightly less than half the grated coconut until coconut is light golden brown. Remove mixture from heat and leave to cool. When cool, put mixture into a food chopper with a little water and process into a thick paste.
Heat remaining oil in a pan. Add paste and cook over medium heat for 30 seconds, stirring consistently. Add ground turmeric, chilli powder and salt. Mix well.
Add crabmeat and mix well. Sprinkle a little water into pan to prevent burning if mixture seems too dry. Add lemon juice and remaining grated coconut and mix well.
Place a ring cutter on a serving plate and press some crab mixture into mould. Gently remove mould. Repeat to make another three servings.
Bring a small pot of water to the boil. Add ground turmeric and salt, then crab claws. When crabmeat turns opaque and is done, remove and drain.
Place a crab claw on each serving plate. Garnish as desired and serve with mint chutney.