Oily fish are known for their health benefits, as they are such a good source of omega 3 oils and protein, but eating them sustainably is always a big worry.
Alaska salmon are wild and sustainable. They swim freely in the icy waters of the North Pacific Ocean, feeding on natural marine life. It is this natural diet of crustaceans and other marine life that give wild Alaska salmon its distinctive colour and flavour. Wild Alaska salmon is low in fat and a natural source of protein, vitamins, calcium and Omega 3 oils, which may help to maintain a healthy heart as part of a balanced diet.
For more information on wild Alaska Seafood, please visit here.
Barbequed wild Alaska salmon with a roasted vegetable, lentil and garlic wild rice salad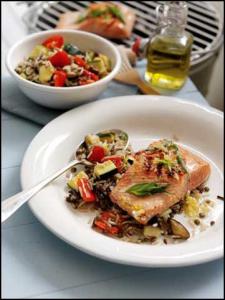 Serves 4
For the rice:
150g wild rice, washed
50g le Puy lentils, washed
1/2 courgette, cut into 1cm cubes
1/2 of 1 red pepper, cut into 1cm cubes
1/2 aubergine, cut into 1cm cubes
2 tbsp olive oil
1 handful parsley, roughly chopped
For the dressing:
3 tbsp olive oil
zest and juice of 1 lemon
2 garlic cloves, crushed
1 tbsp white wine vinegar
For the salmon:
4 x 150g wild Alaska salmon fillets
2 tbsp olive oil
small handful fresh tarragon, roughly chopped
crushed salt and cracked black pepper
Method:
Preheat the oven to 200ËšC
Place the rice and lentils in a saucepan with double the amount of salted, boiling water (approximately 500ml), cover and bring to the boil. Turn down the heat to simmering point and simmer for 20-25 minutes until the rice is al dente. Drain the rice well and allow to cool.
Meanwhile, place the courgette, red pepper and aubergine on a baking tray, season well and drizzle with olive oil. Cook in the oven for 25-30 minutes to roast
Leave to cool and then combine with the rice. Refrigerate until needed.
Combine all the ingredients to make the dressing and season to taste.
Meanwhile, prepare the salmon by brushing lightly in olive oil, roll in chopped tarragon and season both sides of the fish well with salt and pepper.
Barbeque the salmon over medium-hot coals, skin side down first, for 3 minutes a side.
Remove the rice from the fridge, stir in the chopped coriander and then pour over the dressing. Stir well to combine.
Serve the salmon with plenty of wild rice salad and fresh greens of your choice.
Cook's Tip: Wild Alaska salmon is delicious on the barbeque, this recipe uses a simple marinade to showcase the flavour of the fish, but if you like you can also add a little lemon juice and zest to the mix, or play around with fresh green herbs