Vegetarians often get a raw deal at barbecues: a side salad just isn't enough! The Indian cheese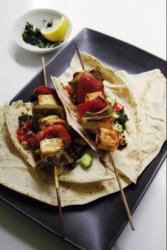 paneer is very versatile, tastes great grilled, tandoori-style and is now widely available in supermarkets. These skewers are full flavoured, have lots of texture and are very satisfying regardless of whether you are a vegetarian or not. Tandoori food is often served with sliced or chopped tomatoes, red onions and cucumbers seasoned and drizzled in lemon juice, and some green chutney.
Makes 6 skewers
For the marinade:
125ml Greek-style yoghurt
5g fresh ginger, peeled
10g garlic (approximately 3 large cloves), peeled
Salt, to taste
¼ – ½ tsp chilli powder, or to taste
1 tsp garam masala
2 tbsp lemon juice, or to taste
2 tbsp vegetable oil
1 tbsp gram flour
1 tsp cumin powder
Seeds of 6 cardamom pods, powdered in a pestle and mortar
For the kebabs:
300g paneer, cut into 2.5cm cubes
1 large onion, peeled and cut into 2.5cm cubes
1 green and 1 red pepper, cored and cut into 2.5cm cubes
Vegetable oil, for greasing
6 wooden skewers, soaked in water for 1 hour
2 tbsp melted butter
Chaat masala, to sprinkle
Purée all the marinade ingredients until smooth, then place in a non-metallic bowl. Add the paneer and vegetables and allow them to soak up the flavours for 30- 40 minutes or longer in the fridge.
Thread the vegetables and paneer alternatively onto the skewers. Grill for 7 minutes on a hot barbecue, drizzle over the melted butter, turn and cook for another 2-4 minutes or until charred at the edges. (Alternatively cook in an oven preheated to 200 C/ 400 F / gas mark 6 for 8-10 minutes, turning halfway).
Sprinkle the skewers liberally with chaat masala and serve with bread.
Images and recipes extracted from ANJUM ANAND'S 'INDIAN FOOD MADE EASY' and 'ANJUM'S NEW INDIAN' www.quadrille.co.uk
Photography © Vanessa Courtier.
Anjum's range of ready-made sauces, The Spice Tailor, is available to buy in Waitrose stores nationwide and online at www.thespicetailor.com
Try Anjum's other barbecue recipes: