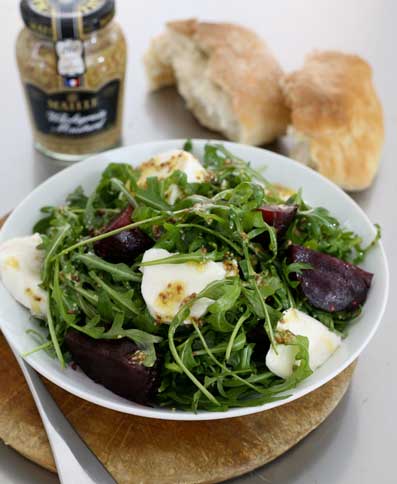 Cooking from scratch needn't be a chore. In fact, most home cooked meals are really simple, taste delicious and are certainly much better for us than ready made meals. So, to demonstrate the ease of home cooking, Maille, the household name for sauces and condiments in France, has developed a series of simply delicious recipes. These clever recipes use no more than five ingredients, are quick to prepare and the end result is magnifique!
So, have a go, and we guarantee that, once you've used Maille in your recipes, like the French, you won't be able to live without it either!
Just one of a range of recipes from our frriends at www.foodmatters.co.uk
Maille Beetroot and Mozzarella Salad (serves 4)
Ingredients
1. BEETROOT (8 small raw, trimmed and scrubbed)
2. ROCKET (I packet of prepared rocket leaves)
3. MOZZARELLA (2 cheeses, sliced, then ripped)
4. LEMON (juice of one whole lemon, zest of half)
5. MAILLE (wholegrain mustard)
From the store cupboard
Olive Oil
Salt and pepper to taste
Roast beetroots in a pre-heated oven Gas 5 350F 190C for around 30 minutes, or until just tender when squeezed. Leave until cool enough to handle. Peel, then cut into wedges. Reserve. Place rocket in a bowl and add beetroot, ripped mozzarella slices and the zest of half the lemon and a good squeeze of the juice.
In a small dish Whisk Maille Wholegrain Mustard with olive oil and the remaining lemon juice. Season with salt and freshly ground black pepper.
Pour over salad and toss. Pile into serving bowls and serve with crusty rolls on the side.