Let Tesco help you turn up the heat at your BBQ with Ben Tish's top trends and tips
Exclusively lending his wealth expertise to Tesco's Flame Academy, Ben Tish, having already made a name for himself at the Salt Yard restaurant group for trailblazing Basque-region inspired cooking, charring, coal and wood grilling, and creating imaginative vegetable main, side and sharing dishes; is sharing his top tips, key trends and recipes to help the nation get the most out of their BBQ this summer. find them after the recipes.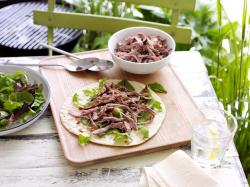 Smokey BBQ Pulled Lamb Shoulder Marinated with Hot Smoked Paprika, Orange and Red Wine Vinegar; Served with Flat Breads (serves 6)
Lamb shoulder is perfect for slow cooking and pulling as you would with pork. Here it has been given a Spanish Basque twist with a punchy smoked paprika infused marinade. Serve hot and sticky with flat breads and a fresh, crunchy salad
You'll need 2 lumps of hard wood for smoking
Ingredients
1 (approx. 2.5kg) lamb shoulder, bone in and scored with a sharp knife
Hot Smoked paprika
Ground cumin
Ground coriander
2 oranges, zested and juiced
100ml red wine or cabernet sauvignon vinegar
200ml extra virgin olive oil
Sea salt and freshly ground black pepper
6 cloves garlic peeled and finely chopped
Sea salt, freshly ground black pepper for cooking
Method
The day before, marinate the lamb – place the meat in a bowl and season very well with salt and pepper, rub over all the spices, the zest and the garlic and then pour over the olive oil, juice and vinegar.
Massage the marinade into the meat and between the score marks. Cover, place in the fridge and leave over-night.
The next day and when you are ready to cook remove the lamb from the fridge to come to room temperature.
Light and set a BBQ with plenty of coals and pushed to one side of the BBQ and place the wood to the side- so you can cook "indirectly".
Drain the lamb from the marinade and place directly on the grill over the coals and sear on all sides until caramelized. Transfer the meat to the indirect cooking zone and place an aluminum tray with some water in above the coals, this will help the lamb to stay moist.
Close the lid and cook for an hour or so- the temperature gauge should read around 200 °C. Now turn the lamb, baste with some marinade and top up with some more coals and then cook for a further hour. Baste with the remaining marinade and cook for another 20 minutes. – The meat should be very tender and starting to fall from the bone
When the lamb is ready remove from the BBQ and rest for 30 minutes covered in foil. Pull the meat and fat from the bone, roughly chop through and place in a bowl with the resting juices and mix well.
Serve the lamb to share.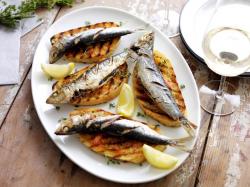 Whole Grilled Sardines Smoked with Rosemary and Thyme-Burnt Tomato Bread (serves 4)
Sardines were made for cooking over an open fire. Their oiliness helps lubricate the flesh and crisp the skin. The herbs here are used twice- to flavor the bread and also smoke the fish as they are grilling.
Ingredients
Sardines, scaled and gutted, skin lightly scored
2sprigs rosemary, leaves picked and stalks reserved
2 sprigs thyme, leaves picked and stalks reserved
1 clove garlic finely chopped
2 very ripe plum tomatoes cut in half
4 thick slices of ciabatta or sour dough bread
Sea salt and black pepper for seasoning
Olive oil for cooking
Half a lemon for squeezing
Method
Light and set a BBQ to very hot and the charcoal is an ashen grey.
Season the sardines and rub with olive oil.
Finely chop through the rosemary and thyme leaves, mix with the garlic and a splash of olive oil to loosen and then season with salt and pepper. Drizzle half of this herb-garlic oil over the bread slices, season and then grill on both sides, over the charcoal until lightly charred.
Remove from the heat and then rub on side of each slice with half a tomato, pressing the flesh into the toast. Drizzle the rest of the herb-garlic oil over the tomato breads and leave at the side of the grill to keep warm.
Place the stalks on the charcoal to start smoking and then grill the sardines on each side for 3 minutes until the flesh turns opaque and the skin is charred and crispy. Squeeze over the lemon juice and then divide the sardines on to the bread slices and serve.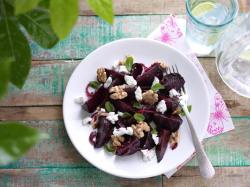 Beetroots Cooked in Embers, Goats Curd, Mint and Salted Walnuts (serves 4)
Cooking beetroots and other vegetables this way is very easy and makes for an intense smoky flavor.
Ingredients
1.3 kg medium size beets trimmed and washed
100g Goats curd or soft goats cheese
½ small bunch mint-leaves picked
50g Whole walnuts
60 ml Balsamic or sherry vinegar
1 large banana, peeled and finely sliced
75ml Extra virgin olive oil
Sea salt and freshly ground black pepper
Method
Light and set a BBQ to maximum heat.
Wrap each beetroot in a foil parcel with a splash of olive oil, some seasoning and a mint leaf.
When the coals are ashen and grey nestle the beets amongst them and ensure they are well covered. Close the lid and leave the beets for around 1 hour to 1 hour 20 minutes until the beets are soft and tender.  A small knife should insert easily through the flesh.
Remove the beets and to cool for 20 minutes, then remove the foil and carefully peel off the skins.
Cut the beets into wedges and then toss with the vinegar, extra virgin olive oil, the shallots and the mint leaves (leave a few for final garnish). Season well and leave to marinade for 15 minutes.
Place the walnuts in a dry sauté pan and toast over a medium heat until they've lightly coloured and started to release their natural oil.
Season generously with sea salt and reserve.
Arrange the beets onto plates, break over the walnuts, and spoon on the goat's curd. Drizzle the remainder of the marinade over the salad and serve with extra mint leaves.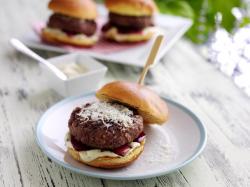 Smoked BBQ Angus Rump Burger, Pecorino, Grilled Onion Pickle and Thyme Aioli (serves 4)
This is really a burger to impress- two different cuts of beef add a great texture plus some bone marrow to keep it nice juicy. Lots of smoking chips thrown onto the coals will make this burger taste unbelievably good. Use a quality shop bought aioli and mix with fresh thyme leaves for ease.
Ingredients
· 550g minced quality beef rump (at least 26 day aged)
· 50ml full cream milk
· 50g dried breadcrumbs
· 20g grated pecorino cheese
· 1 red onion peeled and cut into four wedges
· 50ml red wine vinegar
· 2 tsp brown sugar
· 1 jar of quality aioli or mayonnaise
· ½ bunch of thyme, picked and leaves chopped
· 4 glazed burger buns, cut in half on the width
· Sea salt and black pepper
· Olive oil, sea salt and freshly ground black pepper for cooking
· Oak smoking chips
· 4 wooden skewers
Method
· In a bowl mix together the mince, milk, breadcrumbs and then season well with salt and pepper.
· Shape into four patties and place in the fridge for an hour to firm up.
· Light and set a BBQ for grilling ensuring the coals turn an even ashen grey before cooking.
· Tear the layers from the onion quarters, toss with olive oil and seasoning and throw onto the BBQ. Cook for 5-6 minutes, turning as you go- to cook through and lightly blacken and char. Transfer the onions to a bowl, pour over the vinegar and sprinkle in the sugar. Toss through and then cover and reserve.
· Place the burgers on the grill and sear for 2 minutes on each side before throwing handful of smoking chips on the coals and closing the lid.
· Cook for 4 minutes and then sprinkle the cheese on the burgers and then cook for a further minute with the lid closed. The burgers should still be pink. Remove to a warm spot to rest for 3 minutes and lightly grill the buns on both sides.
· Mix the aioli with the thyme.
· Assemble the burgers- spoon some aioli on the base followed by a pile of pickled onion, then the burger and finally the top bun thread a skewer through the middle and serve.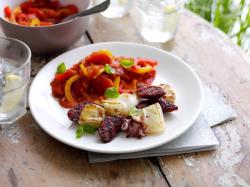 Grilled spicy chorizo with squids, tomatoes and peppers (serves 4)
The BBQ can be very versatile and here we are grilling the meat and fish but also using the heat like a hob and cooking the tomato-pepper stew on the side.
Meat and fish combinations like this are popular in Spain and Portugal and they are absolutely delicious. A sprinkle of aromatic fresh basil adds a lovely fresh note to this BBQ favourite.
Ingredients
· 8 (250g) spicy chorizo cooking sausages, peeled
· 120g cleaned and trimmed fresh squid, cut into chunks
· 2 red onions, peeled and finely sliced
· 2 red peppers, deseeded and finely sliced
· 2 yellow peppers, deseeded and finely sliced
· 8 plum tomatoes cut into chunks
· 50ml Red wine vinegar
· 50g demerara sugar
· Basil sprigs for garnishing (optional)
· Sea salt, freshly
Method
· Light and set a BBQ moving the coals to one side of the BBQ so you have a direct and indirect cooking zone. Place a medium saucepan on the center of the indirect zone and add a lug of olive oil. Transfer the red onions and cook slowly, stirring occasionally until softened and then add the peppers and continue to cook until very soft.
· Next add the sugar, red wine vinegar, tomatoes and seasoning and cook, stirring occasionally until the peppers have turned to a thick, rich stew. This should take about 40 minutes. Transfer the pan to the perimeter of the indirect zone.
· Top up the coals using a chimney if necessary.
· Grill the sausages directly over the hot coals on both sides for 2 minutes to char and cook through. Move to the side of the BBQ and then toss the squids with olive oil and seasoning and grill directly over the coals until lightly charred and just cooked.
· Serve the peppers alongside the squids and chorizo and finish with sprigs of basil. Serve.
E
2015's Hottest BBQ Trends
In the past most of us haven't used our BBQ to its full potential. However an increasing number of Brits are turning to traditional US barbecue techniques for inspiration, even at more, with more and more of us trying our hands at proper slow cooking and wood smoking larger cuts of meat.
It's not the US that's inspiring our summer menus. Nearly every country has their own unique grilling techniques, with everything from Asian through to African and Levant influences seen more and more at Great "British" BBQs.
Brits are making their BBQs work a little harder for them by using coals as another cooking medium. Wrapping vegetables like potatoes, aubergines, beets and carrots in foil and nestling them between and under the ashen coals to slowly cook is a great way to impress and intrigue your guests. Using the grill in more inspiring ways also includes smoking wood chips thrown onto the coals to give a smoky boost of flavour to smaller items such as steaks, chicken thighs and fish fillets.
Barbecues are also getting more high-tech with Brits behind the grill turning to fire chimneys as a fast and reliable way to start the BBQ up. Fire chimneys are great if you are using your BBQ for a period of time to cook larger cuts or several dishes and help guard against  embarrassing 'performance' moments in front of guests.
Beyond burgers; shellfish is gracing our grills more and more. Cooked quickly and simply until the shells are nicely charred and the flesh soft and smoky, is an easy way to seriously wow the crowds.
Another easy showstopper Brits are barbecuing confidently is desserts on the barbeque. Fruits are delicious cooked on the grill especially stone fruits, pineapples and watermelon. Peel and cut the fruits as you wish and then leave them in the fridge, uncovered for an hour or so to "dry" out. This will help them char and caramelise nicely when grilling over a high heat.
Ben Tish's top tips for wowing barbecue quests include:
1.     Its important to know when the BBQ is ready to cook on. The flames should have subsided and the coals turned and even, ashen grey.
2.     Use hard stalks such as thyme, rosemary and oregano to throw onto the BBQ coals and smoke whatever your cooking. Great for a quick smoke hit!
3.     Slow cook whole chickens and larger cuts of meat with some vegetables help keep them juicy and tasty. Dissolve 10% salt to 90% hot water to make a solution and then cool.
4.     For the best natural charcoal flavor use natural lump woods as opposed to the compressed briquettes.
5.     For larger cuts of meat, a lump of seasoned hard wood such as oak or birch set at the side of the shen coals will gently really a stream of perfumed smoke and in turn smoke and flavor whatever your cooking with.
6.     Smoking chips thrown onto the coals will give a smokey boost of flavor to smaller items such as steaks, chicken thighs and fish fillets.
7.     Use the coals as another cooking medium. Wrap vegetables in foil and nestle them between and under the ashen coals to slowly cook and flavor. Great for potatoes, aubergines, beets and carrots.
8.     A digital meat probe is great for checking if large cuts are cooked through correctly.
9.     Fish cooking clamps are brilliant for cooking- and turning large flat or round fish without the worry of then breaking or sticking
10.  A fire chimney is a fast, reliable way to start up your BBQ. It's also great if you are using your BBQ for a period of time to cook larger cuts or several dishes. You can start the chimney next to the BBQ and then top up as and when needed, just giving yourself 10 minutes to do so.
Anyone can log on to the Tesco Flame Academy webpage now for more inspirational ideas, recipes and top tips from Ben Tish atwww.tesco.com/flameacademy