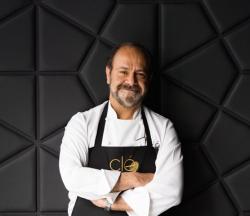 The Imperial is delighted to announce an exciting summer residency with Greg Malouf, the modern-Middle-Eastern-masterchef. Malouf, who wowed London diners during his Michelin-starred stint at Petersham Nurseries in 2012, will be taking over the kitchen at The Imperial on 11th, 12th and 13th August, for what promises to be an umissable dining experience.
Malouf is a recognised authority on Middle Eastern cooking and the author of seven award-winning cookbooks. He first came to fame in his native Melbourne, Australia, at the acclaimed and two-hatted Momo Restaurant, and it's acknowledged that he was the force behind the new wave of'Modern Middle Eastern' cooking that swept through Australia in the late 1990s – and which has resonated around the world ever since. 
During his time at the iconic Petersham Nurseries, Malouf took the restaurant to a second year of Michelin Star status and his menus received high praise from the British press. In November 2014 he took up the reins at Clé Dubai, fulfilling a long-held ambition to live and work in the Middle East. Already claiming its place as a landmark restaurant in the region, Clé has been filling up to 400 covers a day since opening and has garnered glowing praise for its imaginative sharing menus.
Malouf will be the guest of Imperial owner, Kate MacWhirter, a fellow Melburnian and long-time fan of Malouf's exceptional and distinctive cooking. During his stay, Malouf will create 3 very special evening events, including a wine dinner with esteemed Lebanese wine maker Chateau Musar. 
Dinner service starts at 6pm with last orders at 10pm for all three dates. 
The Imperial, 577 Kings Road, London, SW6 2EH