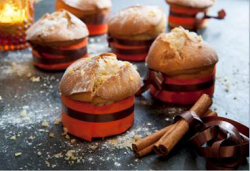 With halloween is fast approaching, here's a great recipe idea from the happy egg co.
Ingredients
150g butter
100g caster sugar
2 happy eggs
250g self raising flour
Pinch of salt
½ tsp nutmeg
½ tsp cinnamon
30g ginger (finely grated)
120ml milk
Makes approx. 8 muffins
Method
Mix the butter and caster sugar together until they form a creamy paste. Add the happy eggs and beat with a whisk until the mixture is light and fluffy; this is the key to keeping the texture of your muffins light. Gently, fold in the flour, salt and spices. Add milk as required to keep the mixture moist.
Lightly oil your muffin moulds and pour the mixture in, right to the top. Place in a preheated oven at 180°C/350°F/Gas Mark 4 for approx 20 minutes.
To check whether they're cooked, the top of the muffin should spring back when lightly touched. Put them back in the oven for a couple of minutes if they're not quite ready.
For some fun, sprinkle with icing sugar and popping candy.
Credit: This delicious recipe was made using happy eggs. The happy egg co. are committed to providing the highest possible standard of welfare for their hens, with the belief that happier hens lay tastier eggs. For more mouth-watering recipes, visit www.thehappyegg.co.uk