Love Pork? Love Sausages? To celebrate National Sausage Week, we have some mouth-watering recipes that are sure to impress all you.
National Sausage Week (3-9th November) – cheap, cheerful and quick to make, the recipes below are surprisingly versatile and encourage you to enjoy a quality sausage-based meal.
And we recommend Crombies Sausages!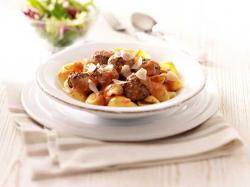 Pasta with Sausage Meatballs
Servings: 4
Preparation time: 15 minutes
Cooking time: 15 minutes
Ingredients
400g sausages
1 tablespoon olive oil
1 clove garlic, crushed
500g carton passata
1 Knorr Garden Herb Flavour Pot
250-300g pasta of your choice
100g mascarpone cheese
Black pepper
Parmesan cheese, to serve
Method
·         Remove the skins from the sausages and form each sausage into 3 or 4 balls.
·         Heat the oil in a frying pan and cook the sausage balls for 8-10 minutes, until well browned.
·         Add the garlic, passata and Knorr Garden Herb Flavour Pot and cook for 4-5 minutes. Meanwhile cook your choice of pasta according to pack directions.
·         Remove sausage mix from the heat and stir in the mascarpone, toss in the drained pasta and mix well. Season with black pepper.
·         Serve with grated Parmesan cheese.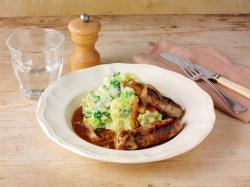 Sausages, Colcannon and Gravy
Serves: 4
Prep time: 20 minutes
Cooking time: 30 minutes
Simple and easy to cook, this combination of subtly spicy sausage with tasty soft potato and a bite of cabbage is classic comfort food at its best, ideal for serving as a family meal with a Knorr Onion Gravy Pot.
Ingredients
8 sausages 1 medium onion, sliced
1tbsp vegetable oil
1tsp Flora Cuisine
½ Savoy or spring cabbage, finely shredded
675g potatoes, peeled and chopped
100ml hot milk
Salt and freshly ground pepper 1 Knorr Onion Gravy Pot
Method
Grill the sausages, until cooked through, turning now and then to ensure even browning.
Meanwhile, cook the potatoes in boiling, lightly salted water until tender.
While the potatoes are boiling, cook the shredded cabbage in the Flora Cuisine, stirring often, until softened.
To make the colcannon, drain the potatoes, mash with the hot milk and season with salt and freshly ground pepper. Mix in the cooked, shredded cabbage.
Heat the oil in a frying pan, add in the onion and fry, stirring now and then, until lightly browned.
Serve the grilled sausages with the colcannon and the onion gravy made with a Knorr Onion Gravy Pot.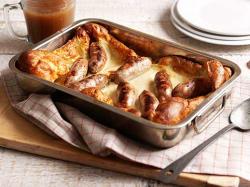 Toad in the Hole
Serves: 4
Preparation Time: 15 min
Cooking Time: 40 min
Ingredients
3 medium eggs
250ml cup of plain flour
300ml semi-skimmed milk
6 good-quality Cumberland sausages (approx. 450g)
Dash of Knorr Chicken Touch of Taste (or Beef)
25g beef dripping or vegetable oil
Gravy, to serve
Method
Pre-heat oven to 190ËšC.
Break the eggs into a large bowl and whisk vigorously.
Add the flour little by little, sprinkling it over the surface of the beaten eggs and whisk until it makes smooth paste.
Add the milk in little by little, until it's blended into the egg and flour mix.
Whisk the batter well and season with a dash of Knorr Chicken Touch of Taste – this gives the batter a nice roasty flavour.
Set the batter aside to stand for an hour or two. This will help make the batter light and airy when baked.
Pre-heat the oven to 220ËšC.
Place a deep roasting tin the oven to heat through well.
Heat the beef dripping or vegetable oil in a large frying pan on the hob. Add in the Cumberland sausages and fry until browned on all sides, turning often. I use Cumberland sausages because they're large and chunky and work well in this dish. For a healthier version, you can grill the sausages instead of frying them.
Transfer the browned sausages and the dripping or oil in which they were fried to the pre-heated roasting tin. Place the tin in the oven and heat through for 5 minutes.
Pour the rested batter over the sausages in the roasted tin. Return to the oven and bake for 25‐30 minutes until the batter has risen and is golden-brown.
Serve at once, with gravy on the side.