Avenida Cap Martinet S/N – 07819 Sta. Eularia del Rio (Ibiza)
destinoibiza.com/restaurant-destino-ibiza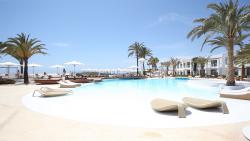 Problem with going to Ibiza for the first time is there's such a firm perception attached to the place that, in all fairness, trying to sound like your not still tripping on some loved-up deep house hug-fest is difficult. You're not really going to have a bad meal in Ibiza because there's a lot of relaxed smoking on the dance-floors out there, so you're still a bit wobbly the day after. Those fumes smell pretty funky.
So, it's not an under-the-influence opinion on the experience of Destinos. It just happens to have been one of those perfect afternoons. Four of us had plenty of room on a long table, sat on a terrace, with bright whites and creams of the tables in the sun and the walls of the restaurant. Crisp uniforms and table cloths. Glasses look nice in the sun. So does cutlery. Everything looks good in the sun. Especially me.
Samuel G Caldón is Michelin starred, a proper gentleman and a really damn good chef. He's got an absolute machine in the manager, Alexandra, plus a crew of knowledgeable characters that definitely know their wine. REALLY good wine. Liked that a lot. Caldón's created an'Experience Menu' – 14 small plates to recreate a trip around the world – I'm up for that.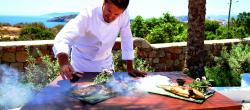 We had a selection out of the fourteen. Starting with some raw tuna truffles. Four thick slices of fresh, tender toro tuna with ponzu and truffle. Never had ponzu before, ticked that one off the list. Bloody lovely. The restaurant of Destinos, Robata, is a Japanese restaurant. Fitting start to the menu and still light on the stomach despite not being shy on the fish.
A large crayfish with a spicy dressing followed. Deep and musky undertones of good old British gravy packed with a punch of European mainland spice. Strong, creamy mushroom balance to it; pretty sure there's a snippet of pork fat in there too. A thick, fresh, sweet crayfish laid on top and a seasoning sprinkle on top. One of those you dissect with a scalpel so it last longer rather than gobble like a troll.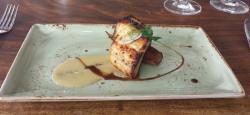 Black cod. It's possibly one of the most interesting ingredients I've come across. Couple of years ago it was all the rage with the yuppies. "Oh yah, go to Nobu and have the black cod. I dunno, I think it's like, it's not white cod, it's like, black cod. Super rare. Think it's Russian". Makes you despair sometimes. So I found myself steering clear of it unless it's compulsory.
Caldón's black cod is thick, flakes off in thick slices and has a much lighter seasoning than I've had in the past. It's not the same glaze that I remember, previous black cod encounters left me a bit, underwhelmed, wondering how people could bark on about something so much when the glazing and seasoning were so overpowering. This is light and has a coffee-based cream sauce laid out in front. That in itself removes the grease and glaze and lifts the fish. Seriously enjoyed this one.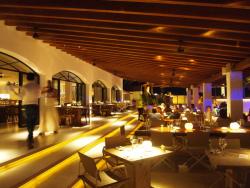 Suckling pig with mashed potato and vegetables is a nice little touch of home. Chuck on a couple of Aunt Bessie's and I'm away. The skin is smooth and shiny like a piece of toffee, cracking like brittle ice on a frozen lake and a thin layer of slow-cooked meat underneath. The jus is nice and if we weren't spoiled in Britain for roasts, I'd go to town on this a lot more. No complaints.
A chocoholics dream of a dessert. A zillion different ways of chocolate, arranged like some Dali painting. Micro meringues, crisp biscuit thins, holed chocolate chunks and a strip of moose. Chocolate's made it's way back into my menus recently, this is one of those desserts that makes you appreciate it and regret turning your back on it ever since you swore off chocolate following a mass mars bar binge. Welcome back chocolate.
Before you go and start thinking that I'm some typical Ibiza hipster on mushrooms, I've only ever spent 7 days there and the mushrooms I bought were duds. So, wind your neck in. Destino's is a brilliant, five-star resort, packed with ultimate luxury and the icing on the cake is the skills of Caldón and his formidable crew. Even if you don't stay at Destinos, you ought to take a little trip to Robata. Go for the utter tranquillity, stay for the impeccable food.