BROWN BROTHERS, the innovative Australian winery, has teamed up with the creative cooks at Geeta's to bring together spicy food and wine combinations to celebrate National Curry Week. Brown Brothers is passionate about creating unique wines to be enjoyed with food, and many of its wines match perfectly with spicy dishes such as Geeta's authentic Indian cuisine.
Geeta's and Brown Brothers are family-run businesses and both share a passion in creating genuine, authentic flavours. Brown Brothers produces the widest varietal wine range in the world – creating an award-winning array of inspirational styles.
Mangalorean Kebabs with Brown Brothers Sangiovese
Brown Brothers Sangiovese, a medium-bodied red, with delicious maraschino cherry flavours, that work wonders with Geeta's Mangalorean Beef and Tomato Kebabs. With its fine tannins and balanced acidity, Sangiovese cuts through and complements the rich Mangalorean sauce and strong meaty flavours. This versatile wine – made from a classic Italian grape variety – is a great red wine choice for warming spicy dishes.
Ingredients
450g thick cut rump steak
8 cherry tomatoes
1 medium onion, peeled and cut into wedges
1 jar Geeta's Mangalorean Curry Creation cooking paste
Basmati rice mixed with fresh chopped coriander, Geeta's chutneys and Geeta's Mangalorean yoghurt sauce (see cook's tip)
Method
Cut the steak into large chunks, removing any fat. Thread the steak chunks, tomatoes and onion wedges onto 4 large metal skewers; place in a shallow non-metallic dish
Thickly brush the Mangalorean sauce over both sides of the kebabs; drizzle over any remaining sauce. Lightly cover with covering film; set aside to marinate for an hour
Cook over a hot barbecue or under a hot grill for 8 – 10 minutes, turning, until the beef is cooked through and the vegetables have softened. Serve with Basmati rice mixed with fresh chopped coriander, Geeta's Squeezy Mango, Squeezy Tomato & Onion or Squeezy Spicy Lime Chutney (available at Morrison's and Sainsbury's) and Mangalorean yoghurt sauce.
Cook's Tip
Stir some Geeta's Mangalorean Curry Creation cooking paste into Greek yoghurt to serve as a tasty accompaniment with these kebabs.
Rogan Josh Lamb Biriyani with Brown Brothers Tarrango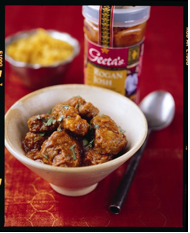 Brown Brothers Tarrango is a light-bodied, vibrant, fruity red which served chilled, is ideal with Geeta's Rogan Josh Lamb. With its fresh acidity and light tannins, Tarrango cuts through the richness of this delicious dish, which is a blend of tomatoes and spices with yoghurt.
Ingredients
300g Lamb cut into cubes
1 jar Geeta's Rogan Josh Spice & Stir cooking sauce
200g rice (wash a few times in water and drain)
2 small onions fried until brown
1/2 teaspoon of saffron soaked in 1/2 cup milk
10 – 15 mint leaves (chopped)
2 tablespoons of oil
1 tsp cumin seeds
10 almonds
10 cashews
1 tbsp of raisins
Method
Make the lamb according to the instructions on the jar of Geeta's Rogan Josh Spice & Stir cooking sauce. Set aside. Heat oil and add cumin seeds. Add the rice and stir fry and then add enough water to one inch above the level of the rice, and bring to the boil. Leave to simmer for 10 – 15 mins until rice is almost cooked and all the liquid has dried up. Take a baking dish and grease the bottom. Put half the rice at the bottom of the baking dish, add 1/2 the mint leaves and 1/2 the nuts and fried onions and all the lamb mixture. Layer the remaining rice, mint leaves, nuts and fried onions to the top of the lamb mixture. Sprinkle the saffron milk on top of the rice. Cover with foil and bake in a moderate oven for 15 – 20 mins. Serve with Geeta's chutneys and a yogurt raita and a glass of slightly chilled Brown
Brothers Tarrango.
Cook's Tip
To truly appreciate this refreshing red wine, enjoy it young and fresh. Quick cucumber raita recipe. 1 medium tub – natural yogurt. 1/2 cucumber cut into very small cubes. Whisk yogurt with salt and 1/2 to 1 tsp sugar (to taste). Add cucumber and 1/2 tsp cumin powder, 1/2 tsp red chilli powder (optional). Garnish with chopped coriander leaves and 1 tablespoon of pomegranate seeds (optional). Rogan Josh Lamb Biriyani with Brown Brothers Tarrango
Karai Bhuna Koftas (meatballs) with Brown Brothers Chenin Blanc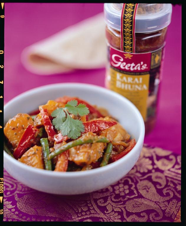 Brown Brothers Chenin Blanc, which has a touch of sweetness that tempers the heat of a spicy dish such as Geeta's Karai Bhuna. The soft, tropical fruit characters of the wine fully complement the rich tomato spices in this dish.
Ingredients
500g minced beef, lamb or chicken
1 finely chopped onion
1 garlic clove chopped
3-4 tablespoons Geeta's Lime & Chilli Chutney, finely chopped plus extra to serve
Salt to taste
1 tablespoon chopped coriander
2 x 350g Geeta's Karai Bhuna Spice & Stir cooking sauce.
Method
Add the chopped onions, garlic, chopped coriander and lime & chilli chutney to the minced beef, lamb or chicken. Mix thoroughly and mould the mixture into equal sized meatballs (koftas). Place on a baking tray and cook in a pre-heated oven 170C for approximately 10-12 mins. Meanwhile, heat two jars of Geeta's Karai Bhuna Spice & Stir cooking sauce in a large saucepan and add the spice mixture from the spice caps and mix well. Add the meatballs (koftas) and cook gently for at least 10 mins until meat is cooked and allowing the flavour of the sauce to penetrate the meat. Serve in bowls on top of freshly steamed Basmati rice or naan bread and enjoy with a chilled glass of Brown Brothers Chenin Blanc, best served young and vibrant.
Cook's Tip
Delicious topped with Geeta's chutneys or pickles of your choice. The vegetarian alternative is to use minced soya