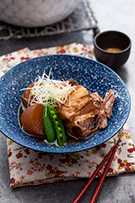 This delicious slow cooked oriental dish can be prepared well in advance for a Valentine's Day to be remembered. Tender chunks of porkbelly that are braised until tender will fall apart in the mouth, whilst the sugar snap peas, white radish and spring onion give an irresistible bite for a fabulous feast that will impress that special someone. This recipe can serve two, with leftovers for the next day, or four for a romantic dinner party.
The Yutaka brand is the leading Japanese range in 16 countries across the globe. The exciting range includes sauces, sushi ingredients, soups, rice, noodles and "easy to use" meal kits – allowing the ardent foodie to create healthy, flavoursome and attractive Japanese cuisine at home.
For more information please visit www.yutaka.co/en/
Serves 4
Preparation time: 15 minutes
Cooking time: 3.5 hours
Ingredients:
1kg pork belly, boneless, with the skin on
1 tbsp vegetable oil
30g ginger, sliced
10cm leek
1 litre water
400g white radish, peeled and cut into 3cm thick round slices
5cm x 5cm kombu (edible kelp)
150ml soy sauce
50ml shaoxing rice wine
50ml mirin
5 tbsp brown sugar 
3 tbsp Yutaka Organic Tamari Soy Sauce
800ml water
Serve with:
Japanese mustard (Karashi) or English mustard
10 sugar snap peas, blanched
2 stems of spring onion, thinly sliced lengthways and soaked in water
Method:
Cut the pork belly into 6cm width x 18cm length (to suit your cooker).
Heat a large frying pan on high heat, add oil and sear the pork skin side down for few minutes on both sides. Remove from the pan and wipe off any excess oil on the surface of pork.
Add 1 litre of water mixed with the ginger and leek into a large saucepan, then add the pork and place the lid on. Bring the pork to the boil and then turn the heat to low and simmer for 1.5 hours. If you are using a pressure cooker instead, simmer for 30 minutes.
Remove the saucepan from the heat and drain the liquid from the pork. Let the pork cool for 10 minutes and then cut it into large cubes.
Place the daikon, kombu, and a mixture of the shaoxing rice wine, mirin, soy sauce, brown sugar, tamari, and water to the saucepan and bring to the boil. Add the pork to the saucepan, place the lid on, turn the heat down to low and simmer for 2 hours. If using a pressure cooker, simmer for 45 minutes.
Serve the pork in the sauce with blanched sugar snap peas, spring onions and mustard if you like it hot!
Recipe created by Atsuko Ikeda, of Atsuko's Cookery School in 2014