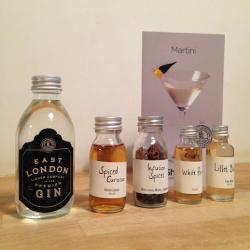 Everything is available on subscription these days and I do mean everything. Coffee, razors, beer – life's essentials.
Eventually, offering a commodity, these services falter. A freezer full of granules, a bathroom cabinet full of unused shaving foam, a waistline billowing over your belt. And I'm paying for this 'privilege'?!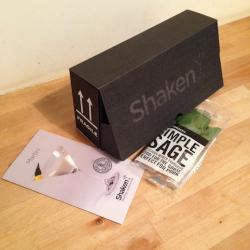 Shaken Cocktails is one of a growing number of subscription services aiming to offer something different from this cupboard full of essentials.
At its simplest, Shaken deliver a monthly cocktail set, with all the ingredients you need (except ice) to replicate a decent cocktail bar at home.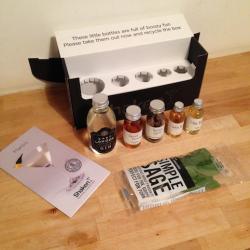 Again, it could have the hallmarks of commodity hoarding. After a couple of months, your kitchen is full of whisky miniatures and thimbles of vermouth.
Shaken is different though. It's more a club than a service; one providing interest and expertise, rather than commodity. The ingredients are chosen, not just thrown together. They're thought through: alcohol picked from the best producers, mixers selected specifically (and in some cases developed) to create that (dreaded phrase) 'wow factor'.
Take the set we were sent. It's a gin, but not any gin – East London Liquor Company's Batch 2: a drink produced in a tiny distillery at Mile End, with eleven botanicals that deliver a complex and fragrant flavour profile. I know, as I've drunk it with the Head Distiller (name dropping there).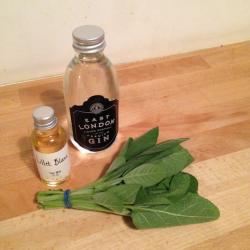 And this isn't a gin they just serve up as a gin and tonic. Nope. Instead, we're set to make a Martini and the deliciously obscure spiced gin flip – although, the latter is hugely ambitious for making with an office cocktail mixing kit. That's two glasses, a spoon and a bag of rapidly defrosting ice from the corner shop, in case you didn't know.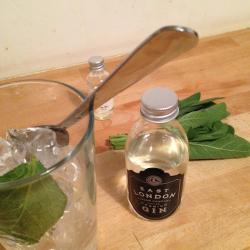 Always in awe of other people's hard work, I appreciate the thought and effort that's gone into the kit. The geek in me appreciations the design too. Five neat bottles, nestled in tight fitting round holes. It looks good, and it travels well.
Inside the box, spiced Curaçao, white port, lillet blanc and an infusion of spices. Not a can of tonic or a slice of lemon in sight. There's the thought, right there. These aren't ingredients you'll pluck out of the air, bundle in a package, and send off to customers. None of your Dirty Martini Moscow mules or White Russians here.
That said, I imagine that Shaken might offer these drinks, but eleborate variations of them – at least you can guarantee that it won't be a 'standard' experience. Something far more interesting and adventurous will be wedged inside that box.
With a new box every month, it's going to be a voyage of delicious alcohol discovery for every Shaken customer. Something to impress guests, friends and other visitors with, as opposed to that mountain of Kenyan pure.
Want food, not drink?
– Celebrate Chinese New Year with a 10-course Culinary Journey Through China.
– Catch a shark with Marco Pierre White at Fortnums.
– Escape for a weekend of foodie excellence at Titchwell Manor.