This week is prime Christmas party time where companies up and down the UK will be cutting out early at midda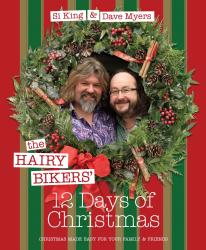 y (if you're lucky) or 17:00 (if you're not) for a nice Christmas dinner and raucous after party that would make R Kelly blush.  Once you've gobbled down your Christmas dinner and gifted your colleagues with a range of'hilarious' secret Santa presents, the conversation inevitably turns to shots, that most magical party-starter that has the power to either get the party off to a flier or, if you've already ingested one too many, end it with a visit to the loving arms of Armitage Shanks.
Thank God then, for those cuddly Hairy Bikers and their recipe for Cranberry & Lime vodka jelly shots. A little more finessed than the jello-shots you tried to make aged 19, the recipe is simple yet fun. 
Ingredients: 
3 sheets leaf gelatine
375ml cranberry juice drink
50g caster sugar
150ml vodka
Finely squeezed juice of ½ lime
Method:
Put the gelatine sheets in a bowl and cover them with cold water. Leave to soften for 5 min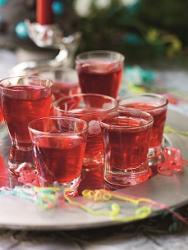 utes. Pour the cranberry juice drink into a medium saucepan, add the sugar and heat gently until lukewarm. Remove from the heat.
Lift the gelatine from the water and squeeze it to remove as much liquid as possible. Drop the gelatine into the warm cranberry juice and stir until completely dissolved. If the juice isn't warm enough to melt the gelatine, put it back on the heat for a couple of minutes more.
Stir the vodka and lime juice into the cranberry mixture and pour into a jug. Place your shot glasses on a tray and pour the mixture into them. Cover loosely with clingfilm and chill for several hours until lightly set.
Recipe extracted from The Hairy Bikers' 12 Days of Christmas: Christmas Made Easy for Your Family and Friends by Dave Myers and Si King
See The Hairy Bikers cooking live at a BBC Good Food Show 2016: http://www.bbcgoodfoodshow.com/