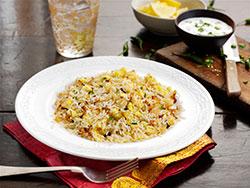 Prep time: 10 minutes
Cooking time: 40 minutes
Serves: 2
Ingredients
250g Tilda Wholegrain Basmati rice
125g yellow lentils (dried)
1 x large onion finely sliced
1 x clove garlic (crushed)
2cm piece ginger peeled and grated
1 x cinnamon stick
4 x cardamom pods
6 x cloves
8-10 black peppercorns
1Ž2 x tsp turmeric powder
1 x pinch red chili powder
1 x lemon
1 x tbsp. chopped fresh coriander
1 x green chilli finely sliced
5-6 tbsp. veg oil
150g yoghurt
50ml whole milk
5-6 strands saffron
1 x tbsp. butter
Method
Preheat the oven to 200C.
Rinse the lentils and boil for 20 minutes in salted water along with the turmeric.
Rinse the rice and boil for 10 minutes then strain and place in a shallow ovenproof dish.
While the rice and lentil are cooking, heat the veg oil, fry the sliced onions till golden brown then drain on kitchen roll.
Add the ginger and garlic to the same frying pan and cook for 3-4 minutes then add the yoghurt, the lentils and chilli powder and cook for another 2 minutes.
Brush the bottom of an ovenproof dish with a little oil and add half the rice.
Spread the lentil and yoghurt mix over the rice and sprinkle over the coriander, the lemon juice, the chopped chili, and the whole spices.
Cover with the remaining rice. Soak the saffron in the milk.
Pour the milk over the top of the rice, scatter with the onions and dot over the butter.
Cover with foil and the lid then cook in the oven for 25 minutes.