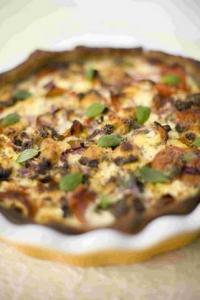 We tend to think that the French and Italians have the lead when it comes to tarts and pies made with tomatoes and onions. But think again: those ultra-health conscious Finns have a food culture all of their own and here is a simple and very versatile Finnish recipe from the Fruisana Kitchen. Finland, after all, is the home of Fruisana Fruit Sugar, so it's not surprising to find that it is being used in this recipe to bring out the maximum sweetness and flavour of the tomatoes.
Now that the Summer is well and truly on its way, and home grown tomatoes will soon be plentiful, try this easy recipe. A slice, served warm or cold with a small salad, will make the ideal starter and it is perfect for taking on a picnic and sharing with friends.
TOMATO & ONION PIE
(Serves 8 – 12)
Pastry
300g Self-raising flour
100g Rye flour
100g butter, cut into small pieces
100g solid vegetable oil (such as Cookeen)
1 egg
Filling
750g tomatoes
3 large onions
4 tablespoons Fruisana Fruit Sugar
3 tablespoons of vegetable oil
200 grams mature Cheddar cheese
1 egg
Salt
Black pepper
2 tablespoonfuls fresh oregano chopped (or 1 teaspoonful dried oregano)
Sieve the flours into a bowl, add the fats and rub into the flour until the mixture resembles breadcrumbs. Mix together the egg and 4 tablespoons of cold water, add to the pastry mix and stir to form a soft dough (it may be necessary to add a little more water, which should be added a tablespoon at a time)
Chill the pastry in a fridge for 15 minutes and then roll out to fit the bottom and sides of a 25cm spring-clip tin (or other shallow pie dish).
Bake blind in oven at fan 180ºC electric 200ºC or gas mark 6 for 15 – 20 minutes
Cut the tomatoes into quarters and remove the seeds, sprinkle with 2 tablespoons of Fruisana and allow to stand for 15 minutes. Drain well
Peel and thinly slice the onions. Heat the vegetable oil in a frying pan and gently cook the onions until they are translucent. Stir in 2 tablespoons Fruisana and cook until caramelised (this will take about 10 minutes), drain well on kitchen paper.
Lay the tomatoes and the onions in alternate layers on top of the pastry.
Finely grate the cheese and mix together with the eggs and herbs in a bowl. Carefully spread the mixture on top of the tomatoes and onions and bake the pie in an oven at fan 160ºC, electric 180°C or gas mark 4 for 35 – 45 minutes, until tomatoes softened and cheese topping evenly browned
Let the pie cool for a while before serving, serve scattered with a few more oregano leaves on top, and with a green salad