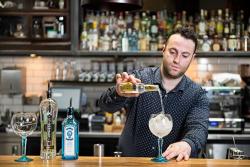 Created by Dan Berger, the head mixologist at Heddon Street Kitchen, 'The Glory of Expedition Gin & Tonic Twist' was inspired by Dan's recent involvement with Bombay Sapphire World Most Imaginative Bartender Competition.
Winning the UK leg of the competition, Dan was taken to Spain to visit areas where several of the botanicals in Bombay Sapphire originate from. 
Allowing for consumers to learn about his experience and discover how to make innovative twists on the classic gin and tonic, Dan will be hosting two limited edition masterclasses at Bombay Sapphire Distillery at Lavertsoke Mill with Brand Ambassador Sam Carter. 
These two special curated masterclasses will allow guests the chance to have an unique evening out with two of the UK's leading mixologists.
Influenced by his recent involvement in the Bombay Sapphire World's Most Imaginative Bartender Competition, Dan has created a number of gin and tonic twists inspired by the regions from which the botanicals in each bottle of Bombay Sapphire are sourced. Guests will learn how to re-create these twists in an interactive masterclass whilst hearing tales from his experience in the competition.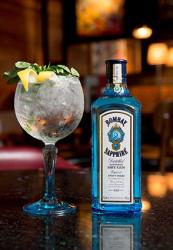 You will need: 
50ml watercress infused Bombay Sapphire15ml St Germain
1 x 200ml bottle of Fever Tree Tonic Water
Plenty of ice
Glassware: 
A 'Copa de Balon' Glass
(either a large 'balloon' glass or Burgundy glass)
Garnish:Wedge of lemon
Method: 
Place a large handful of watercress into a bottle of Bombay Sapphire and seal up. Leave to infuse overnight. When ready to make, fill a large 'copa de balon' glass full of good quality clear cubed ice.
Stir to chill the glass. Strain off any excess water produced.
Pour in the watercress infused Bombay Sapphire and swirl the glass to chill the gin. Next add the St Germain and finally, using a twisted bar spoon, pour the tonic water whilst stirring.Garnish with a sprig of watercress and wedge of lemon