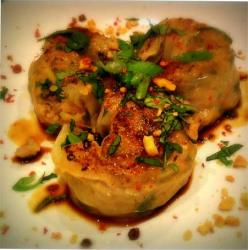 Gyoza dumplings are typically made with wheat based wrappers. This recipe uses more readily available rice paper. Using rice paper only really lends itself to pan frying and not to the steamed equivalent which is so popular in Japan. The advantages of using rice paper though are that it is gluten free, you don't have to order ingredients online and they are thinner which means more room for the delicious filling.
Ingredients
For the filling:
2 x Pure pork sausages – remove skin and lightly fried
15 x King prawns – cooked and roughly chopped
1 x heaped teaspoon Garlic paste
2 x spring onions – finely chopped
Coriander (small handful) roughly chopped
Ginger (small head) – finely chopped
Lime zest (2 strips finely chopped) and juice (big squeeze)
Soy sauce (big glug)
Fish sauce ( bigger glug)
5 x schezuan pepper corns (crushed in pestle and mortar)
For the Wrapper
Rice paper (you can get it in any chinese supermarket) – briefly submerged in water and left for 2 minutes to soften.
To Garnish
Crushed peanuts (I used chilli nuts)
Crushed schezuan pepper corns
Chopped spring onion
Chopped coriander
Splash of good dark soy
Method…
Make the filling by combining all the ingredients above and mixing thoroughly
Take softened rice paper and place a good tablespoon of the filling mixture in the very middle. Create a half moon by folding the circular paper over the filling and press the edges together, Draw the corners of the half-moon to the centre in a croissant like shape. (shape is known as 'big hug gyoza")
Note: Because these are not the traditional wheat variety, they may not stick as well. This is why A) you have to pan fry these, if you poach or steam they will simply fall apart; and
B) you may have to man handle them a bit, they are quite tricky to maintain the shape.
Pan fry on both sides for a couple of minutes in a little oil on a moderate heat.
Garnish as above.