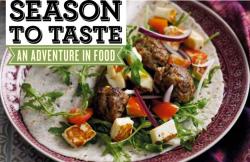 "This takes a traditional authentic dish and adds a modern street food twist for a new generation of food lovers and globe-trotting gourmands. This dish is easy to prepare, making it perfect for light lunches or al fresco suppers."
Offering a modern twist on traditional Turkish food, Victus & Bibo launched in 2005 as a street food meze stall set up by Eddie and
Fay Aykiran. The couple, whose fathers are both restaurant owners, are passionate about Turkish food and wanted to turn this love into a career.
Ten years on they run three kiosks across the Capital and are opening their first restaurant this summer. 
Serves: 4
Preparation time: 15 minutes, plus 1 hour chilling
Cooking time: 15 minutes

500g lean minced lamb

60g fresh white or brown breadcrumbs

1 large onion, finely chopped or grated

4 tbsp chopped flat leaf parsley

1 tbsp chopped fresh rosemary (or 1⁄2 tbsp dried)
1 tsp ground cumin
1 tbsp dried mint

1/2 tsp dried chilli flakes or paprika

1 medium egg
1 Knorr Lamb Stock Cube

Salt and freshly ground black pepper
2 tbsp light olive oil

250g pack Cypriot halloumi, cut into 6 slices

4 tortilla wraps or flat breads – either brown or white
2 tomatoes, chopped

1 small red onion, thinly sliced

80g rocket
Olive oil and lemon juice, for drizzling

Pinch of sumac (optional)
1 Put the minced lamb, breadcrumbs, onion, parsley, rosemary, cumin, mint, chilli flakes or paprika, egg and Knorr Lamb Stock Cube into a food processor. Season with salt and pepper, then blend for about 30 seconds. Tip onto a plate, then cover and refrigerate for 1 hour.
2 Shape the mixture with your hands to create koftas, about the size of ping-pong balls.
3 Heat the olive oil in a large frying pan over a medium-high heat. Add the koftas and sizzle for 1 minute, then gently turn them over with a fork or spatula. Cook until crisp and brown. When cooked, drain on kitchen paper.
4 Whilst the koftas are cooling down, cook the halloumi in a char-grill pan or dry frying pan until golden on both sides. Warm the tortilla wraps or flat breads over the cooking halloumi.
5 Top the warm wraps or flatbread with rocket, tomatoes and red onion. Share the koftas between them and top with the halloumi. Serve, drizzled with a little olive oil and lemon juice and a pinch of sumac (if using).