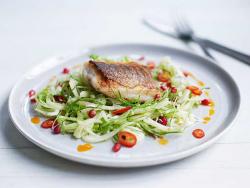 We may know our chimichurri from our kimchi, but according to research by Pays d'Oc IGP, 87% of Brits are clueless when deciding what wine to drink with more unusual dishes and ingredients. A further 41% claim to panic when choosing wine for any meal, traditional or modern.
Pays d'Oc IGP, leader in French varietal wines and no. 1 French wine exporter, is here to help, along with wine expert Jane Parkinson, IWSC Communicator of the Year 2014, and French Michelin starred chef Eric Chavot, of Brasserie Chavot in Mayfair. 
Pairing wines with new flavours doesn't have to send you into a panic, so Jane has some general tips which can help out, commenting; "Pinot Noir is famously (and usefully) very versatile with food. From game or ratatouille, to Chinese ribs, Pinot Noir can handle it! Matching wine with spicy food can be tricky, but aromatic grape varieties such as Sauvignon Blanc work well with rich and creamy curries, as well as lighter dishes like sushi and sashimi."
Serves 4
Ingredients
4 Sea bass fillets, scaled and pin boned
For the spices mix
15g Crushed lemon coriander seeds or coriander seeds
15g Crushed fennel seeds                     
15g Herbs de Provence                         
1tsp Chilli flakes                                        
2tsp Maldon sea salt                               
Method
·       Mix the spices together
·       Using the tip of a sharp paring knife, score the skin of the fish gently
·       Brush each fillet with a dash of olive oil, and apply the spice mix generously on the skin
·       Keep the sea bass refrigerated until needed
·       Remove it from the fridge about 10 to 15 minutes before cooking in a lightly oiled pan, cook skin down directly onto the pan, it will take 5 to 6 minutes but turn to the flesh side for the last 20 /3 0 seconds
·       Leave your fish to rest on a warm plate for a couple of minutes, then drizzle the fish with the resting juices and the green sauce
Fennel slaw ingredients
200g Fennel (thinly sliced)                                      
40g Spring onions                                                                        
50g Green pepper (thinly sliced)        
1 Green chilli                            
50g Sliced sugar snap peas                                                      
50g Pomegranate seeds
130g /140g Ranch dressing (BRIANNA'S classic buttermilk dressing)          
24g Lemon split dressing (if you don't have time use plenty of olive oil, lemon juice, salt and pepper)                                                       
25g Pickling syrup (use vinegar and honey together to create this)              
Pinch of finely chopped coriander
Chilli flakes to taste
Fine sea salt to taste
Ground white pepper to taste
Method
·       Place the fennel, spring onions, green pepper, green chilli and sugar snap peas in iced water for five minutes
·       Drain and gently spin dry in a salad spinner
·       Keep refrigerated in a bowl until needed
·       When needed, fold gently with the ranch dressing
Sauce verte ingredients
Bunch of flat parsley                               
Bunch of flat coriander                           
Bunch of basil leaves                             
4 Spring onions (finely sliced)
1 Garlic clove (finely sliced)
1Ž2 Green chilli (finely sliced)
1Ž2 Lemon zest and juice                          
50g Olive oil                                               
25g Lemon oil                                           
Palm sugar syrup to taste
Fine sea salt to taste
Method
·       Blitz all the above ingredients in a blender until smooth with the help of a couple of ice cubes
·       Check the seasoning before transferring to a serving bowl and keeping in the fridge.

Wine pairings
Domaine de Valensac – Sauvignon – White – 2014
Enticing lemongrass aroma and packed with tense freshness in the mouth. Green herbs and grass offset the crunchy lemon and lime fruit nicely, and it has a cleansing salty lick to finish.
£7.95, Lea Seindem     
La Croix Gratiot – Les Zazous – Red – 2013
A pretty flora aroma with strawberry and raspberry. Good juicy fruit, easy-goingytannins and plenty of classic Pinot Noir character.
£80.78 for a case of 6, Excel Wines
www.paysdoc-wines.com/en/pays-oc-igp