Get Valentine's Day off to an indulgent start with Gü's decadent brekkie.
Chocolate Waffles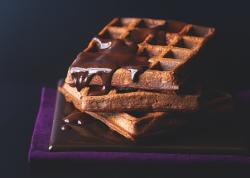 Makes about 10 
Ingredients:
225g plain flour
25g cocoa butter
1 tbsp baking powder
50g caster sugar
pinch of salt
2 egg yolks
250ml whole milk
125ml vegetable oil, plus a little extra for cooking
3 egg whites
200g dark chocolate, melted, to serve
Equipment:
Electric hand mixer
Waffle iron
Method:
To make the batter for the waffles, sift the flour, cocoa powder and baking powder into a mixing bowl.
Stir in the sugar and salt.
Mix the egg yolks with the milk in a separate bowl, then add the oil and 125ml of water.
Make a well in the centre of the flour and pour in the liquid, whisking all the time, until you have a smooth batter.
In a clean bowl, whisk the egg whites with an electric hand mixer until they form soft peaks.
Use a metal spoon to fold in one third of the whisked egg white into the batter, then gently fold in the rest.
Pre-heat the waffle iron.
Add a tiny amount of oil to the iron and spoon in the batter.
Close the lid and cook for 1-2 minutes or until just set.
Lift out the cooked waffle and keep it warm in a low oven while you repeat with the remaining batter.
Serve the waffles drizzled or brushed with the melted chocolate.
Recipe from 'The Gü Chocolate Cookbook', published by Collins, RRP £18.99.