Patissier Will Torrent has teamed up with quality fresh dip company G'NOSH to create this quirky cake.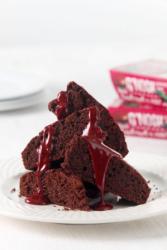 Chocolate & Beetroot Cake
Serves 8 
Ingredients:
For the cake:
75g cocoa powder
180g self-raising flour
1/2 tsp baking powder
250g golden caster sugar
250g G'NOSH Beetroot & Mint dip
3 free-range eggs
100ml olive oil
100ml vegetable oil
1 tsp vanilla extract
For the ganache:
100ml beetoot juice
10ml olive oil
100g milk chocolate
100g dark chocolate
Method:
For the cake:
Preheat the oven to Gas Mark 4/180C.
Sieve the cocoa powder, self-raising flour and baking powder into a bowl.
Stir in the caster sugar.
In a separate bowl, whisk the G'NOSH Beetroot & Mint dip, eggs, oils and vanilla extract until the mixture comes together.
Add the beetroot mixture to the dry ingredients and mix together.
Pour into a pre-lined 8" cake tin or 12 individual cupcake cases or domes.
Bake for 30 minutes or until it is springy to the touch. The smaller cakes will take less time.
For the ganache:
Put the beetroot juice and olive oil into a saucepan and bring to the boil.
Pour the boiled mixture over the chocolate combine. (You could use a hand blender to do this to emulsify the ganache.)
To assemble:
When the cake is cooked and fully cooled, pour over the beetroot ganache before serving.
For more on the range of G'NOSH fresh chilled dips and stockist information, visit www.gnosh.co.uk