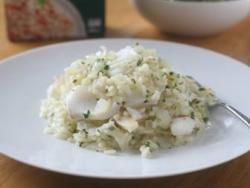 Smoked Haddock and Leek Risotto
Serves 4
1 litre/1 3/4pts fish or chicken stock
700g/ 1 1/2 lbs smoked haddock fillet (or sustainable equivalent)
1 tbsp sunflower oil
50g/2oz butter
1 onion, peeled and finely chopped
2 whites of leeks, trimmed and sliced
320g/11 1/2oz Riso Gallo Vialone Nano
1 bay leaf
wineglass dry white wine
2 tbsp double cream
1 tbsp fresh parsley, finely chopped
salt and freshly ground white pepper
Make sure stock is hot. 
Place haddock in a pan and cover with boiling water.  Simmer for around 5 minutes, then take off heat. Leave to cool.
Heat oil and butter in a pan and fry onion and leek over gentle heat to soften but not brown. 
Add Riso Gallo Vialone Nano Risotto Rice and bay leaf and stir to coat in the mix.  Pour over wine and cook, stirring until absorbed. Gradually add stock a ladle at a time, stirring. 
Only add more stock when the previous ladleful has been absorbed.  Continue until almost all stock  is absorbed, and rice is tender, but still with a bite.  Stir in cream. 
Flake haddock and stir into risotto with last ladleful with parsley.  Season with salt and freshly ground white pepper.  Serve immediately.
Riso Gallo has been Italy's number one risotto rice producer for over 150 years, and its white rice range continues to impress professional and amateur chefs alike.  Established in 1856, Riso Gallo is a sixth generation family business based in the Northern Po Valley, Italy, the authentic risotto rice growing region in Europe.  The combination of the correct climate, soil type, landscape and the family's unsurpassable knowledge and dedication to perfection ensures consistent quality and the finest risotto rice.  Buon appetito!