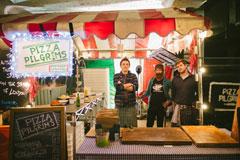 FEAST comes to Tobacco Dock from March 7th – 10th, a place steeped in history: created in 1811 to house deliveries of tobacco from the West Indies it is now a'deconstructed' warehouse site and offers plenty of space and atmosphere.
This Spring FEAST will play host to the best of London's restaurants and Street Food including Dishoom, Rita's, HIX, Patty and Bun, Caravan, Wright Brothers, Meringue Girls, Disco Bistro, Mishkin's, The Bowler, Bone Daddies, Roti Chai, and Frederiks.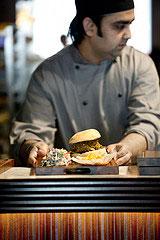 This third FEAST also sees the addition of Rita's Dining, who are running a supper club in the vaults on Friday, Saturday and Sunday evenings. There are 60 covers each evening and they will be serving 4 courses. These rooms are situated on the ground floor in the impressive vaults and each has private access.  Every room comes equipped with music, seating, and bottle service.  Snippets of the menu will be revealed soon.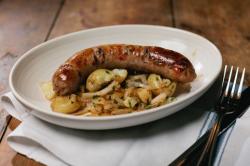 Guests to FEAST can also hire their own private room down in the vaults for secret eating and drinking.  Each guest will receive an email from FEAST organisers prior to the event containing a full drinks menu.  Once guests have selected their drinks they can relax – FEAST will put them in your room, complete with ice!  Tickets for a private room are £20 (inclusive of entry ticket) and there is a maximum of 30 people per room.
And as always, live music will play a big part of the 4-day weekender. 
Here are some of the highlights we can expect at FEAST at Tobacco Dock:
·         Lamb Raan Bun from Dishoom: slow-cooked, spiced pulled lamb piled up in a sourdough bun
·         Award-winning pimped up Mac N Cheese from Anna Maes, alongside their FEAST special – 'The Piggy Smalls': mac n cheese topped with pulled pork, pickled red onions and house made BBQ sauce
·         A new dog from Big Apple Hot Dogs called'Dogs of Phwoar'
·         The new Subwich from The Bowler – fresh beef meatballs in a rich tomato sauce, melting Provolone and Mozzarella cheese, all sitting comfortably in a Ciabatta style bun
·         Disco Bistro's take on the Philly cheesesteak sandwich: The 'Disco Dexter'.  This is aged Cornish Dexter beef with homemade dripping cheese, sweet and sour peppers and bone marrow gravy in a soft white bun
·         A Reuben Hero Melt from Mishkins: All the fillings of a Reuben (pastrami, sauerkraut) heated up on the grill and a slice of cheese melted on top and squeezed into a soft hot dog bun. And a load of Russian dressing and fried onions.  Plus for £1 guests can pick up a'Wally on a stick' – a dill pickle lolly!
·         And from the lovely people at Beard to Tail comes their Bearded wild boar faggots & the smoked Shoreditch sausage, the meat for which has been sourced from the Sillfield Farm in the Lake District
·         Roti Chai will be serving up a selection of Indian street food snacks and will also be selling Mango Frooti on the stand – one of India's best selling drinks
·         Caravan will be serving up homemade brownies alongside their delicious coffee
·         Meringue Girls will be offering mini meringue kiss gift jars for guests to take home with them as well as their Eton Mess with poached rhubarb, blood orange, stem ginger cream & freeze dried raspberries
·         All new Tantanmen ramen from Bone Daddies
·         And HIX will be offering his take on a fish finger sandwich, breaded coley fillet with minted mushy peas and tartare sauce.  He'll also be serving up his dog-nuts – hot cinnamon doughnuts with a choice of salted caramel or chocolate sauce.
·         The people behind the Peruvian pop-up bar and cevicheria, The Last Days of Pisco, are heading to Feast determined to get everyone hooked on their winning combinations of silky raw fish and zingy citrus juice.
Tickets can be booked on the FEAST website:  www.wefeast.co.uk
Thursday 7th March (6pm- 11pm) 
Friday 8th March (6pm – 11pm) 
Sat 9th March (Midday – 11pm)
Timed Ticket Entries apply
Sun 10th March (Midday – 8pm)
Timed Ticket Entries apply
ADDRESS
50 Porters Walk London, Greater London E1W 2SF