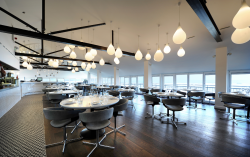 Established in Cornwall for six years now, Jamie Oliver's 'Fifteen' has re-equipped and re-styled with a new interior by Helen Blake of Absolute launching itself into the 2013 season.
A state of the art kitchen is at the heart of the transformation enhancing the chef training programme that underlies the restaurant's ethos.
With its beachside location perched on the dramatic north Cornwall coast,  Fifteen faces its tables out to the panoramic sea views across Watergate Bay during the day, then at sunset they are turned inwards so as to focus on the working kitchen.
The new interior features an Antipasti Bar , where diners can pull up a stool or chair for a range of small dishes washed down with a glass of wine.
The antipasti menu includes Cotechino Lentils with Salsa Verde, Squid Ink Gardanolli with Crab Pangrattato, Mozzarella with Blood Orange and Pistachios, and Mussels with Cornish beer and'Nduja on Toast.
Head Chef Andy Appleton has developed a new dinner menu that, for the first time since Fifteen opened, gives diners the chance to choose courses for themselves.
However the Chef's tasting menu will still remain as the restaurant's premium offering; featuring traditional Italian rustic dishes such as Risotto Barolo with Tallegio, Duck with Polenta and Salsa Verde and Seabass with Lentils and Aioli.
The options of five or seven tasting courses selected by Andy are paired with wines chosen by Fifteen Cornwall's Sommelier, Gordon Lawrence.
A new addition to the dinner menu is finest Longhorn beef cut to order then cooked in the new Josper oven. Fifteen claim that this will be "the best steak in Cornwall".
Fifteen Cornwall. On the beach, Watergate Bay, Cornwall TR8 4AA
Prices start from £4 for Antipasti, from £18 for main courses on the dinner menu, and from £60 per head for the Chef's Menu.To make a booking contact the reservations team on 01637 861000 or visit www.fifteencornwall.co.uk