Loin of venison in a sloe gin & blackberry glaze with candied shallots
This rich and flavoursome dish is sure to be a hit with friends and family over the Christmas period, as well as being an inventive way to use that last bit of sloe gin left in the cupboard.
Ingredients: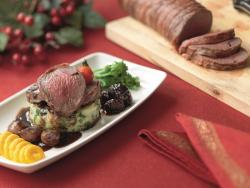 1 saddle of venison separated into 2 loins
1 tbsp olive oil
1 tsp dried thyme.
250g pancetta, thinly sliced
1 tbsp vegetable oil
2 tbsp sloe gin
200ml reduced beef stock
6 juniper berries, crushed
200g blackberries
knob of butter
sea salt
freshly ground black pepper
For the candied shallots:
12 shallots
4 tbsp butter
1 tbsp caster sugar
75ml red wine
50ml port
50ml cassis
250ml good beef stock
1 bay leaf
½ tsp dried thyme
zest of ½ lemon
Method:
First trim the loins of any fat or sinew and wipe them clean. Rub the loins with olive oil, season lightly and rub in the dried thyme. Set aside. Preheat the oven to 180°C/Gas 4.
Lay the pancetta on a piece of clingfilm to make a pancetta sheet. Place the loin on one end of this and roll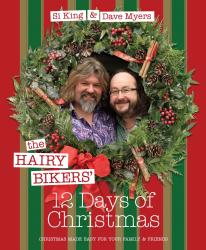 up so the loin is wrapped in pancetta, which will add flavour and keep the venison juicy. Warm the vegetable oil in a frying pan, the sort with a handle you can put into the oven. When it's hot, sear the loin until the pancetta is beginning to turn golden and the meat is sealed. Then place the pan in the oven for 6-8 minutes. Don't leave it too long – the venison should still be pink. Remove the meat from the pan and set it somewhere warm to rest.
Deglaze the pan with sloe gin and burn off the alcohol. Pour in the beef stock and add the juniper berries. Simmer for about 5 minutes to reduce the stock further and infuse it with the juniper. Strain the sauce and return it to the pan, then add the blackberries. Cook for about 4 minutes until the blackberries are softened, then crush them slightly. Adjust seasoning and whisk in the butter to give the sauce a velvety sheen. Discard the ends of the loin and cut the rest into thick slices. Allow about 3 slices per person and dress with the sloe and blackberry glaze. Serve with candied shallots and other veg of your choice.
Candied shallots
Bring a pan of water to the boil, add the shallots and simmer for 5 minutes to soften them up a bit. Melt the butter in a frying pan, add the shallots and cook them until brown. Add the sugar and stir until the butter starts to caramelise.
Mix the wine, port, cassis, and stock. Add about a quarter of this, bring to a boil and add the bay leaf, thyme and lemon zest. Keep adding the remaining liquid until the shallots are just covered with a glaze. Set aside till needed.
Recipe extracted from The Hairy Bikers' 12 Days of Christmas: Christmas Made Easy for Your Family and Friends by Dave Myers and Si King
See The Hairy Bikers cooking live at a BBC Good Food Show 2016: http://www.bbcgoodfoodshow.com/