Comté has brought in chef Laura Pope to develop three new recipes with a distinctly British twist. We all know food is one of the most important parts of Christmas and New Year's Eve celebrations, so as the festive season approaches why not wow your friends and family and try the recipes yourself?
Comté is carefully produced in the Jura Mountains of Eastern France, in a traditional method that has not changed for centuries. From sweet to nutty, Comté expresses a wide diversity of natural aromas. This means it is a versatile cheese that can be used in a range of different recipes, even British ones!  From the Mediterranean to the Middle East, chef Laura Pope says her food has been inspired by cooking and ingredients from all over the world. But for the imminent festive season, she has developed some recipes that can create a truly British table.
Her first creation is mini spiced apple, pecan and Comté pies, a delicious twist to the classic mince pie. Mix Bramley apples, cinnamon, pecans, and 12 month old Comté cubes and encase in deep golden brown pastry for the perfect Christmas Eve treat. Don't forget to leave one for Father Christmas!
If you want to spruce up your typical festive aperitifs, why not try the mushroom and thyme tartlets with Comté? Finely dice some mushrooms, and mix with thyme, bread crumbs and butter, and finally sprinkle with some finely grated Comté. Made with bread rather than pastry, they make a simple and deliciously light nibble. Finally add some class to your New Year's celebrations with the perfect sharing dish: a sundried tomato, green olive and Comté loaf cake. Mix olives, sundried tomatoes, thyme, and of course Comté into a crusty golden loaf and serve warm, to keep every stomach satisfied as you enter into the New Year. Comté pairs perfectly with Champagne, so make sure you try this delicious pairing too!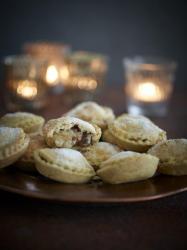 Mini spiced apple, pecan & Comté pies
Makes 12 pies.
For the pastry
200g plain flour
Pinch of sea salt
115g unsalted butter, room temperature and cubed
1 free range egg yolk
Very cold water
For the filling:
250g Bramley apples
½ teaspoon ground cinnamon
40g pecan halves, roughly chopped
50g Comté cheese, cut into 1cm cubes
Plus:
Caster sugar, to sprinkle
To make the pastry, mix the flour and salt together in a bowl with a balloon whisk (this breaks up any lumps and aerates the flour, as sieving it would do).
Rub in the butter with your fingertips until the mixture resembles breadcrumbs.
Mix the egg yolk with 2 tablespoons of ice cold water and sprinkle three quarters of this over the flour and butter mix. Mix to a firm dough using a cutlery knife and then one hand – you may need to add more liquid, but the pastry should not be too damp.
Wrap the pastry in cling film and chill in the fridge for 30 minutes.
Make the filling: peel, core and cut the apples into 1cm cubes. Put them in a saucepan with the cinnamon and a couple of tablespoons of water and cook gently over a low heat for about 5 minutes, stirring occasionally, until the apples are soft.
After the pastry has chilled, heat the oven to 200°C (180°C fan oven). Lightly beat the egg white with a fork. Cut off a third of the pastry and keep it wrapped in cling film while you roll out the rest to the thickness of a 20 pence piece. Using a cutter a little bigger than the holes of a shallow bun tin (about 7cm), cut out circles and line each hole.
Roll the remaining third to the same thickness and, using a smaller cutter (about 5cm), cut out circles for the lids of each pie.
When the apple filling is cool, stir in the pecans and cheese.
Spoon the filling into the pastry-lined holes, brush a little water around the pastry rims and lay the pastry lids over the filling, pressing the edges together to seal.
Make a little hole in each lid for the steam to escape. (If you want to freeze the pies, this is the time to do it and then defrost them completely before proceeding to the next stage). Brush the tops with the egg white and sprinkle with a little sugar.
Bake for about 25 minutes, until deep golden brown, then remove and let them sit for 5 minutes in the tin before very gently moving them onto a wire rack (if not eating straight away) or onto a plate to serve.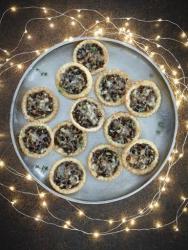 Mushroom & thyme tartlets with Comté
Makes 12 tartlets.
3 tablespoons olive oil
1 onion, finely diced
250g mushrooms, finely diced
1 teaspoon fresh thyme leaves
Salt and pepper
12 thin slices of white bread
50g butter, softened (you may not need it all)
50g Comté cheese, grated finely
Heat oven to 220°C (200°C fan oven).
Grease the holes of the tart tin with olive oil.
Heat a tablespoon of the olive oil in a frying pan and gently fry the onion for about 5 minutes until soft and just starting to get golden.
Add the mushrooms and thyme leaves and raise the heat, then cook for about another 5 minutes until the mushrooms are done and the liquid has evaporated. Season to taste with salt and pepper.
Butter one side of the bread, then cut circles of bread with a pastry cutter (about 7cm diameter) to fit in a shallow bun tin. Press them, buttered-side up, firmly into the holes.
Put the mushroom mixture into each bread case, sprinkle over the Comté and bake in the oven for about 12 minutes until golden brown. Serve hot.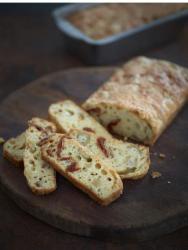 Sundried tomato, green olive & Comté loaf cake
Makes 2 small loaves – you can eat one now and freeze the other.
200g self-raising flour
1 teaspoon fresh thyme leaves
½ teaspoon sea salt
Few twists of ground black pepper
3 large free range eggs, lightly beaten
100ml olive oil, plus a little extra for greasing the tins
100ml whole milk
100g pitted olives, halved
100g sundried tomatoes, roughly chopped
100g Comté cheese, finely grated
Heat oven to 190°C (170°C fan oven) and grease 2 small loaf tins (about 19x7x5cm).
Mix flour, thyme leaves, salt and pepper. Add the eggs, oil and milk – beat with an electric whisk for 1 minute to form a smooth batter.
Mix in the olives, tomatoes and three quarters of the cheese.
Pour the batter into the two loaf tins, sprinkle over the remaining cheese and bake for about 30 to 35 minutes until the loaves are firm, golden and crusty on top.
Cool for 5 minutes in the tins, then turn onto a wire rack. Can serve slightly warm or at room temperature.
If freezing a loaf, defrost it fully before baking in an oven pre-heated to 190°C (170°C fan oven) for 5 to 10 minutes to reheat.