Centre Point, 101-103 New Oxford St, London WC1A 1DD www.paramount.uk.net
Up above the madding crowd Nick Harman discovers his inner wild man with a special foraged menu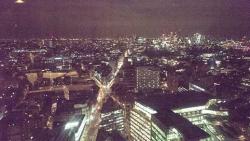 One used to hear all kinds of rumours about Centrepoint, the tower that dominates the Tottenham Court end of Oxford Street. A recurring one being that the concrete that went in was far too much for what was needed and in fact some kind of nuclear shelter/command control centre had been built underneath and the tower was a hollow fake.
Well I've never met anyone who's ever worked in the building and, as it was built in 1962 a time of heightened cold war panic, it was kind of believable. In fact it stood mysteriously empty for 10 years after it was built and then became synonymous with the homeless who inhabited its subways and walkways.
Today it sits amongst all the chaos of the Cross Rail building project but now we can all get in, thanks to Paramount the restaurant and bar on the top floors. Soon there will be expensive apartments and the whole building will be what it should always have been, an ornament to the West End.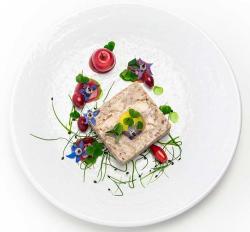 For now though you have to negotiate plywood barriers to find the entrance where a big bouncer directs you to the original reception desk in a slightly tatty and fusty smelling atrium. Then a dedicated lift zooms you up to the main restaurant and there you gasp.
I've been to all the high rise restaurants in London and more are coming, but Paramount has the best view by far, so far. On this crisp, cloudless, night it really is stupendous.  The bar on the top floor lets you look in all four directions, here in the restaurant below it's mostly North to South via East. I can see all the way to Essex, which is the only way eh?
The room is smart, everyone's good looking and probably over from the Square Mile and not short of money. The scent of the sixties has been well expunged so that you could be in any high-rise smart bar/restaurant from New York to Dubai. Paramount was in fact a private members-only club until relatively recently and it still feels like it is, which is not a criticism.
Members clubs are not always known for their food though, after all the only way a carping critic could get in would be to be a member. They tend to stick to cooking high class hotel style menus, reckoning that the members have little interest in eating other than as simple fuel.
So props to Paramount for launching a foraged menu Thursdays to Saturdays only and running until the 24th of November. Head Chef Krzysztof Zachwieja who one has to assume has Eastern European roots (and berries) and so a long cultural history of knowing what's good to eat in the wild, has come up with a set menu of earthly delights for £70.
Starter though had me worried; Pressed Hare & Pheasant Terrine, Marinated Pheasant Egg, Hawthorn Berry-Rose Hip Jelly, Ground Ivy Leaves & Wild Borage Flowers. It came prettily to table but was a bit too much a like any old terrine and the pheasant's egg was raw and rather unpleasant texturally. However the hawthorn berry and the other hedgerow greens did add unusual tastes.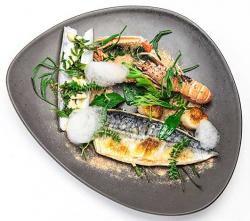 All went a lot better with the next course; Hand Dived Scallop, Dublin Bay Prawn, Razor clam, Hay Baked Mackerel, Wild Sea beets, Gutweed and Sandwort. The scallops were perfect and generous in number, the razor clam delicious and the mackerel a real star. The hay had certainly added a fine flavour to the fish, but as it is itself inedible we had a bit of a problem with it on the plate. We liked the way the dish was itself a forage; we rooted through to find all the treasures and surprises, like the briny, fleshy sea sandwort and the tangly gutweed. P loved this dish and she knows her fish,'amazing mackerel' she said with more hay in her mouth than Wurzel Gummidge.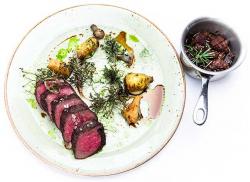 Meat was the next star, a dish of superb Yorkshire venison, smokily seared, rare and well rested. Plenty of wild mushrooms gently cooked and still plump around it and bosky scents and flavours from some Douglas fir pine oil and birch jus. On the side came a venison ragout so deliciously rich and darkly flavoured it cried out to be a meal on its own, stirred into some buttery tagliatelle perhaps where it could really show its stuff.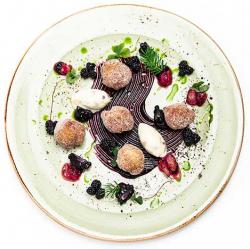 And to finish a blackberry beignet, crab apple compote and pine ice cream. The berries weren't too full of seeds, which my teeth were grateful for, and the crab apple all too often neglected in the UK was tart and sour as it should be which went well against the smooth  pine ice cream with its notes of disinfectant.
It's a good menu, yes it's pricey but you aren't just paying for the view and style as so often in these kinds of places. The chef can really cook and forage (he found most of the seaweeds himself apparently) 
Photos supplied by Paramount except the bad one of the view. Hey it was a mobile phone..