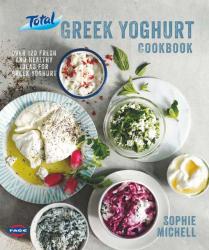 I'm not the type that goes for branded anything, whether it's t-shirts or food processors and especially when it comes to cookbooks. However, when I heard that there was Fage Yoghurt cookbook coming out I did not hesitate to look it up. Fage is the only Greek yoghurt I use and I love it.
Read the ingredients label of a pot of Fage Total and you'll find essentially 2 ingredients, milk and cultures and that's the way it should be. Creamy, thick and multi-talented it's one of my favourite ingredients and so a book dedicated to Greek yoghurt recipes sparked my interest.
I was sceptical that Kyle Books could fill a whole book with Greek yoghurt recipes but a clever consortium with Sophie Michell has resulted in an unusually singular book that beautifully highlights the versatility of this one, singular ingredient.
Michell has been cooking since her teens and has worked her way up through the ranks,  appearing on TV and in magazines, becoming a chef to celebrities such as Claudia Schiffer and Leo DiCaprio and eventually a celebrity in her own right. 
Her restaurant Pont St opened in August last year and she's authored  6 cook books in total, but it's not these elements, while they are impressive, that convince me of her prowess with yoghurt; it's her genuine passion for Greek food and her experience living and eating in the country for 10 years.
With a strong Greek and Mediterranean influence, a handful of classic recipes from the 'archives' and Michell's fresh ideas and inspiration, this cookbook is a winner. I started to mark the recipes that I want to try and decided to scrap the idea because virtually every page contained a recipe or idea I want to make.
Some highlights include the Butternut Squash and Sage Bake, Spiced Courgettes with Sriracha Chilli Dip, Crab Cakes with Tarragon, Chive and Lemon Sauce and Baked Red Pepper and Chilli Eggs. If you love eating creamy food without the calories, the Total Greek Yoghurt Cookbook will keep your kitchen cultured for tasty, healthy and inspiring food for years to come.