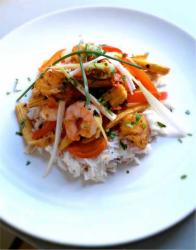 There is literally no good reason to eat the boiling, bright orange gelatinous syrup that masquerades as sweet and sour sauce in this country. This authentic Chinese sauce takes your taste buds from sweet to sour and back again via a few subtle surprises on the way.
Ingredients
For the Hot, Sweet and Sour Sauce:
2 x garlic cloves (crushed)
2 x hot little chillies (deseeded depending on your disposition)
1 x Large head of ginger (finely chopped)
7-8 x Sichuan pepper corns (or pink pepper corns)
2 x Spring onions (chopped)
2 x tablespoons honey
4 x tablespoons rice vinegar
4 x tablespoons dark soy sauce
juice of 1/2 a lemon
1 x Plump ripe juicy tomato (chopped)
small handful of chopped parsley
Salt and pepper
Plus:
Raw king prawns
Fresh Pineapple (cubed)
Red Peppers (sliced into matchsticks)
Baby sweet corn (sliced lengthways)
To garnish:
Spring onions sliced lengthways
Chopped Parsley
Method
Get the rice on (1 part rice + 2 parts cold water + Moderate heat = perfect rice)
Grind all of the sauce ingredients together in a pestle and mortar
Flash fry the red peppers, baby corn and pineapple in a little very hot oil
Fry the prawns in the same pan for 45 seconds until they begin to colour
Add the sauce to the pan and stir fry until prawns are pink and juicy (if you have retained it any pineapple juice, add it now)
Serve with rice and suggested garnish.