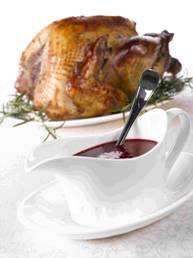 As we carve our traditional roast turkey this Christmas Day, how many of us will be treating our families to proper cranberry sauce as an accompaniment? By all means keep a jar of ready-made sauce in the cupboard as a standby, but when there are lovely fresh cranberries so readily available, and they taste so much more delicious, surely it makes sense to make your own? And when you are using fresh cranberries, be sure to maximise their delicious flavour: By using Fruisana Fruit Sugar in your recipes you will find that the flavours are enhanced.
Cranberries, in particular, taste far more 'fruity" if cooked or served with fruit sugar. And as fruit sugar is suitable for use by Type II diabetics, it also means that the whole family can enjoy this easy to make sauce, which tastes really delicious.
Fruisana Fruit Sugar is pure fructose, which is a natural constituent of many fruits and vegetables. Unlike artificial sweeteners, fructose has no aftertaste – it is made entirely from natural ingredients and contains no chemicals. As well as being perfect for use in hot and cold drinks, it can be used for all manner of recipes.
Fruisana offers numerous health benefits to slimmers, sportsmen and women, and non-insulin-dependent diabetics. It provides longer lasting energy thus reducing the temptation to snack, and with its low GI* (only 19), it also makes an excellent recipe ingredient for anyone following a low GI* diet.
Do try this delicious sauce – you can make it in advance and freeze it, or it will keep in the fridge for a few days.
Cranberry, Orange and Marsala sauce
150g cranberries
2 small sweet oranges
1 cox's apple, peeled, cored & finely chopped
1 onion, peeled & finely chopped
100g Fruisana Fruit Sugar
250ml water
4 tbsp Marsala sweet wine
salt & crushed black pepper
Place the cranberries in a pan and then remove the zest from the oranges and add to the pan.
Segment the oranges and add the flesh to the pan. Stir in the apple, onion, water, Fruisana and Marsala wine.
Cook uncovered on a gentle heat for 15 – 20 minutes until thickened, carefully blend to a smooth sauce. Serve the sauce and season with salt & pepper. Pour into a serving dish and serve with Turkey.
The Fruisana website has lots more recipes from the Fruisana Kitchen, including a delicious Spiced Apple and Cranberry Chocolate Roulade – perfect for those who don't like Christmas pudding or mince pies.