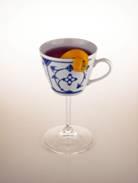 The first cocktail book ever written contains hot punch, hot buttered rums, blazers and toddies by the dozen. You couldn't nip out for a bag of ice or make it easily at home, so cooling drinks was an expensive practice. Setting fire to liquid soon became a phenomenon, and as taverns reopened as upmarket hotel bars, bar men honed their skills, and so, out of the heated punch the much loved toddy was born.
Fiery drinks are back in vogue, a permanent feature on many cocktail menu's and simple to make at home. There has never been a better time to try one and by adding the perfect amount of hot flavoured tea, a drink can change from being just a mixed drink that'll blow your top, to an exciting new compound that would tantalise the taste buds and ingnite the passion of any keen recipient.
Quality key ingredients makes for a superior flavour. The combination of Barceló's aged rum, and The Bitter Truth Pimento Dram mixed with the hot tea and the striking fruity sweetness followed by bitterness of The Bitter Truth Orange Bitters gives the perfect blend of spice and warmth in our toddy.
Here's how to make a warming spiced toddy:
40 ml Barceló Gran Anejo Rum
10 ml The Bitter Truth – Pimento Dram
4-5 dashes The Bitter Truth – Orange Bitters
10 ml Sugar Syrup*
Hot Darjeeling Tea
Put all ingredients into a tea cup or glass and stir. Add orange peel and grate nutmeg on top.
*made by dissolving 1 cup sugar in 2 cups water
Where to buy: Harvey Nichols, Harveynichols.com and thedrinkshop.com,
Ron Barceló Gran Anejo from £19.37
The Bitter Truth Pimento Dram from £20.72
The bitter Truth Orange bitters from £13.09